Over the last year, my son and I have watched the new UMC Family and Children's Clinic take shape as we would drive down 98th Street. He's eight now, but the early Bob the Builder obsession still lingers! He's been very curious about the new colorful windows and has asked if we can go inside once completed.
I have to admit, I've been curious too. The new location is close to our home, and I was eager to see what UMC has to offer for South Lubbock. This week, Lubbock Moms was fortunate to get a sneak peek and tour of the beautiful facility in advance of the grand opening Monday, June 6th.
We also had the opportunity to sit down and interview
Dr. Arrington Madison
, a pediatrician at the new clinic, and I'm excited to share both with you!
Lubbock Moms: From the first step in the door, it is clear that a great deal of planning went into making this clinic a welcoming place for families. Can you tell us about some of the features that make the UMC Family & Children's Clinic unique?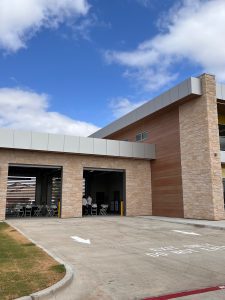 Dr. Madison: One of the features we're most proud of is that this clinic is the first in Texas and one of the first to offer drive-thru testing for illnesses from the comfort of the patient's car. COVID, flu, and strep can be tested without even unbuckling a car seat. We're also ramping up to offer flu vaccines in the drive-thru to make that more manageable and more accessible for families.
Lubbock Moms: Wow! I love the family-friendly planning that went into this. I'm imagining how much easier flu shots will be for my kiddos if they can stay in their car seat and watch Bluey while getting it done! I also see how this will serve so many community members well. 
I think most Lubbock Moms are regularly looking for the "mom-convenience" factor when making choices about healthcare. Are there other conveniences we should let our readers know about?
Dr. Madison: Definitely. In addition to the drive-thru, our clinic is equipped to treat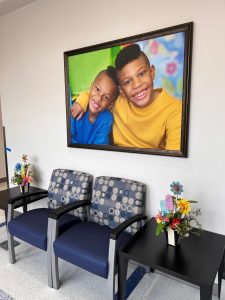 patients from infants to adults. Our first floor is dedicated to pediatrics, and our second floor will be focused on family medicine. We're here to serve the entire family in one location. Another aspect of the clinic that we're proud of is that we have separate dedicated waiting areas for well-check and preventative care visits and ill patients. We want patients and families to feel safe when they come in for care. As physicians, we've seen many people get out of routine with their well-check and preventative care appointments during COVID. Our goal is to help provide an added layer of security and comfort for families. 
Lubbock Moms: In addition to the drive-thru testing, what other diagnostic capacities are available on-site?
Dr. Madison: We can also conduct x-rays and complete labs on-site. We can do bracing, splints, and other medicine you would expect in an urgent care environment. We want people to know that we can handle urgent care and illness visits and be the location you visit for your well-check visits and preventative care.
Lubbock Moms: Tell us a little about why UMC chose this location?
Dr. Madison: At UMC, our passion is the well-being of the citizens of Lubbock County. With the growth of South Lubbock, we wanted to accommodate the increased population and bring a neighborhood clinic to serve the community. We're excited to be a resource to the families in this area. We love that our clinic is in the heart of this community, near churches, schools, and neighborhoods.
Lubbock Moms:
Can you tell us about the staff at this location? What type of specialists will be officing at the clinic?
Dr. Madison: Our goal is to have four providers in pediatrics and four providers in family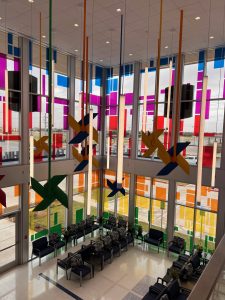 medicine. Right now, I'm the sole provider in pediatrics. Dr. Mitchell will be joining our practice in September. We'll be adding a nurse practitioner and physician's assistant to our team.
Upstairs in the family medicine part of the clinic, we have Jennifer Gailey, APRN, FNP-BC, and Jennifer Siegel, FNP. We'll be growing our team as we grow the clinic and practice operations. 
Lubbock Moms: Dr. Madison, what are you most looking forward to with the official grand opening?
Dr. Madison: This clinic has been a long work in progress. Being able to watch these plans come to fruition has been rewarding. I recently became a mom, and Lubbock is home for my family and me. I'm so excited to build a practice that my family can be a part of.
Thank you to Dr. Madison and the team at UMC for the sneak peek! Here's everything you need to know about the grand opening:
UMC Family and Children's Clinic
9615 Frankford (98th & Frankford)
Opens Monday, June 6th
UMC Family and Children's Clinic quick facts:
Drive-Thru testing for Strep, Flu, COVID-19

Lab, X-Ray, and Urgent Care Services

Separate waiting areas for well-visits and sick-visits

Services for Children and Adults 
Website: www.umchealthsystem.com
Phone: 806-761-0265