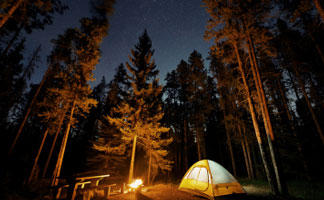 There seems to be a strict divide among vacation choices. "I'm a beach kind of girl" or "I want to stay in the city, no outdoorsy stuff for me." I am here to tell you that you can be all of those ladies at different times. I used to think I was just the beach girl but realized that camping is one of my favorite things to do. The outdoors are revitalizing and always open, regardless of what is going on in the world. It has become a necessity for my family and me, especially during this time of quarantine.
You may be intimidated by the whole process, as I was at the beginning.
There is lots of gear to buy and places to find when looking for the right camping spots. Plus, there's the fun issue as a lady of figuring out where to pee. It's a lot harder for us than the guys, am I right? 
Below are a few tips and tricks that I have learned along the way. In no time, you could be headed out of town and ready to begin a reasonably low-cost vacation with lots of built-in entertainment options for the kids.
Tip 1: Where to Find a Site
Our family preference is to determine the area based on the time of year. My other requirement is that the location is something we can typically book in advance. I am not a fan of "winging it" on the spot with a three-year-old in tow. I like to have a set plan for where we're sleeping at night.
Is it summer?
We look to Colorado and New Mexico because camping in Texas is too hot for us. Colorado is my first choice. We love the Junction Creek Campground outside of Durango or the Purgatoire Campground near Trinidad. To stay a little closer to Lubbock, though, New Mexico is a great option. We have stayed in some of the dispersed camping spots in the Lincoln National Forest around Cloudcroft, even during quarantine. These are genuinely free and is the only location I feel safe going without a reservation.
In fall or spring, we look for Texas spots that are too hot for us in the summer.
Caprock Canyons is a great, close place. Last fall, we went to Big Bend and were blown away by the National Park. The park spots book up years in advance, though, which kept us out for so long. This is where we discovered a fantastic website called Hip Camp. It is like Airbnb for camping. People allow campers to stay on their private land, and many offer amenities like a campground would. They also enable reviews so you can make sure it is safe. We have tried several Hip Camp spots and have loved them all so far.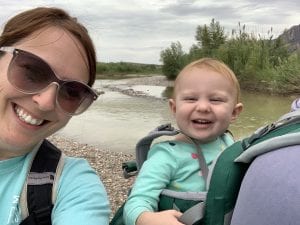 Tip 2: What gear you need
For gear, I can only speak to tent camping. My husband likes the "simplicity" of camping that only a tent can provide. If you have an RV, please feel free to comment below with any tips for that aspect.
For tents, the more room, the better, in my mind. We have a 6-man tent for the three of us and have plenty of room to move around and stand up. I much prefer being in a tent that I don't have to crouch down in all the time. A more massive tent is more work but worth it in the end, especially if you have weather that causes you to spend an extra amount of time in there.
I still have to have my comforts while camping, like a good pillow, air mattress, and a nice sleeping bag.
We bring the iPad for my daughter to watch movies in the tent at night and have LED lights to hang up once the sun goes down.
Other essentials are camp chairs, headlamps, a Coleman propane stove, cooler, water kettle, Starbucks Via packs (best instant coffee), and a cooking bag. I always pack a skillet, spatula, paper plates, bowls, and a little spice container.
For purchasing supplies, I love to start at Mountain Hideaway. They are locally owned and not only provide a lot of the gear that you need, but they can also give you advice. We started taking our daughter camping at a young age (11 months) per their advice, and because of this, she truly loves her time outdoors.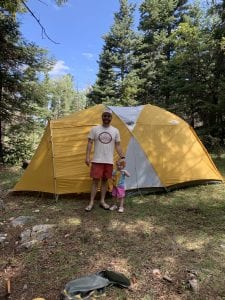 Tip 3: What to eat
If you haven't discovered Pinterest for recipes, now is the time! They have many camping-friendly recipes and tips that you can find by searching "camp meals." As with all Pinterest recipes, some are much more doable than others.
I'll be honest – a lot of our camping meals are eaten in a tortilla.
We always do breakfast burritos, fajitas (I love the pre-seasoned fajita meat from Market Street), and even hot dogs in a tortilla. I also try to do pancakes and use the Kodiak brand mix. It only requires the mix and water, which cuts down on ingredients to bring. A new favorite for us has been pita pizzas. We carry a few pitas, marinara sauce, cheese, and other toppings and throw them on the stove.
Of course, it wouldn't be camping without s'mores each night.
You can bring special s'mores sticks or find actual sticks in the woods as we do. And if you haven't seen this yet, square marshmallows now exist and are perfect to use. Finally, someone told me to use Nutella instead of Hershey's, and it has upped our s'mores game.
Tip 4: The bathroom advice
Finally, a bit of advice about the bathroom: if you find an established campground, you should have toilets to use. I prefer the ones in the Colorado state parks; they always seemed cleaner and more agreeable. 
For the dispersed camping, you get to learn to squat if you haven't already.
I like to find a lovely, secluded tree to lean against. A product called a "Go Girl" (or something similar), but I didn't have much luck with it. If you find one that works, please let me know. It is a great idea. 
For my daughter, we bring her little training potty and set it up in the tent vestibule.
Don't forget the biodegradable toilet paper!
Accept that you probably won't get a shower while camping, but that is one of its freedoms, and no worries about hair or makeup. This is one of the reasons why my camping limit is about two days.
I hope these tips help you to get out there and camp! I would love to hear if anyone has any other advice or tricks or if you were able to go camping for the first time.
Life is better outside!