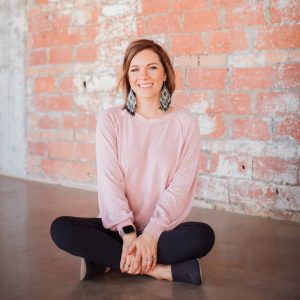 Hi Lubbock Moms! I'm Kristina. A 33-year-old, homeschool mom of 3 and a wife to a sweet, hardworking guy, Justin.
My husband of almost 12 years was born and raised here in Lubbock and so are all of our kids. I, however, was not. I came to Lubbock for Texas Tech University nursing school to become a Labor and Delivery nurse at UMC and West Texas just sort of sucked me in.
Coming from a suburb of a big city (Houston) and also having lived in quite a few other places in my life, I have a huge appreciation for the Hub City. It's got a small town feel – I mean 15 minutes gets you ANYWHERE in town and I almost always run into someone I know anytime I'm out – but, it has most things a big city would have. Hello, Cheesecake Factory!
Factor all that in plus having the BEST people and I don't think you'll ever get us to leave. I've never lived in a city more friendly. Where else would you find someone running past you in a parking lot just to open the door for you since you've got your hands full with three littles? Get rid of the wind and add some more greenery, trees and just a hill or two and you'd have the absolute perfect place to live. Amen and amen.
Our son Lincoln is 6, daughter Tinley is 4 and our other son Harlan is 18 months. Our house is always loud and messy and every one of these kids has their own very distinct but also crazy personalities. Lazy days in our PJs reading books are my favorites. I love these guys fiercely but I'm not opposed to leaving them with their dad to grab some coffee and walk around Target for a couple hours to unwind from my day. Yes, I said hours.
Here are some fun facts about me in no particular order:
– I could live on coffee. Like, if you want to make my day bring me some J&B coffee (hands down the BEST local coffee place in town. Order a Honey Breve…you'll thank me!)
– My house might be clean if you stop by, but that's only because I spent the 20 minutes it took you to get to my house cleaning to make you THINK I am actually good at housekeeping.
– I love all things health and eat all the healthy diets. Paleo. Keto. Whole 30. Organic. Whatever I'm feeling these days, but I'm also not opposed to eating some Menchies Fro-Yo 3 days in a row either. #balance
– My 3 precious cherubs amaze me at how well behaved and sweet they are, especially out in public…orrr…maybe they make poop jokes in front of the 25 other people in line at Target and yell and scream over who gets the red or white sticker and I want to walk away and pretend like I have no idea whose kids they are.
– I was a Labor and Delivery nurse in Lubbock for 10 years so it's likely I helped you deliver your baby.
– I don't watch much TV, at all really. If I start with one episode on Netflix I'll binge watch the entire show in two days because I have no self-control. So I just don't watch anything. Except for a lot of Peppa Pig.
– I secretly want to live on a farm and be completely self-sustaining. Chickens, cows, a massive garden, all of it. But, I'm terrified of crawling insects, snakes, don't love getting dirty and I've killed every living plant in my house so that probably wouldn't work out all that well for me. We had chickens in our backyard for about half a year and those months they gave us eggs were the BEST.
Social media mostly shows the good days and not so much of the bad but isn't that kind of the point? It's not really hiding the bad – we know it's always there. The good is what we want to remember. I promise to show you BOTH sides. To be real but always encourage you. We're all so much more alike then we are different. We just want to be loved and have someone to love. That's the bottom line. And we all have that in Jesus. No way I'm better then you, my friend reading this. If I can feel like I'm succeeding at life then I think pretty much anyone can!