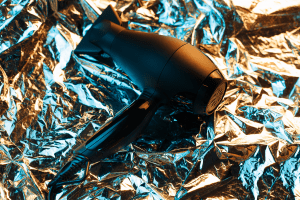 As I gathered my curling iron, gel, comb, and some clips, George said to me with laughter in his eyes, "this isn't exactly the way I had hoped you would bond." I then curled my sixteen-year-old stepson's hair.
Mom of Six
I have come to motherhood both through marriage and through biology. My first baby was almost two when I started dating her dad. Then I felt the pain of two pregnancies ending before they really began. I finally had my one belly baby, my son. Then just when he and I found a way to be only the two of us in life, I met a man who had two kids. I love all six of my babies still so much! Three of them live in my house.
I bonded with my stepdaughter pretty quickly. Girls are easy because I've raised one, and I was one. We talked about Hamilton and cotton candy and friends pretty quickly. My stepson has been an entirely different story. I met him at a time in his life that was just full of hurt and confusion. He was almost 15, friends were becoming more important than family, I was clearly an interloper, and he sort of just wished I would go away. Add to that that he was testing limits (he still is) as teens do, and you could reasonably say we've had some struggles, which is why I was pretty excited when he asked me to curl his hair.
My stepson is exploring who he wants to be. The teenage years are a great time to do that! Sometimes he wants to be a "gangsta" with his pants worn so low you can see his underwear (thankfully, we don't have to see it these days), sometimes a cowboy with boots and hat, sometimes more funky with a beanie and oversized shades. Sometimes he blares loud rock music, sometimes country music, occasionally bass-thumping rap. His room is decorated with fishing trophies, LED lights, and a multi-colored quilt. I know he'll figure it all out as he gets older, and it can be fun to watch him try on different options of how he wants the world to see him.
Nothing New Under the Sun
My mom used to tell my sister and me when we were teens that she didn't like a particular style of clothing because she "did it the first time." I understand now. My oldest (former step)daughter wears cropped shirts and mom jeans, much like I wore in high school. My son bought me a Caboodle for my birthday a few years ago, almost identical to the one I had as a young girl. It's all popular again, which is why the mullet shouldn't surprise me.
Several months ago, my stepson announced that he wanted to grow his hair (previously styled in a traditional clean-cut boy cut) into a mullet. Having lived through Achy Breaky Heart, my immediate reaction was laughter. True to his word, he grew and had it cut to a mullet. We continue to laugh and tease about it good-naturedly.
Will You Curl My Hair?
Then my stepson came to me one evening and asked me if I could curl it to get an idea if he wanted a perm. I've also lived through a few perms, so I told him he doesn't want a perm. We never learn from that experience of our elders. So I curled his hair.
As I worked through sections of his hair, curling and combing, I complimented it. He is a handsome boy and has thick, wavy hair that I'm honestly a bit jealous of! It held curl like mine never will. I reflected internally how styling his hair was a motherly, nurturing action. I felt gratitude that he was allowing me to mother him, however, slightly.
And, when it was all curled and sprayed, his dad and I decided we like it better than straight. If he is going to wear a mullet, this looks better, more AC Slater or Patrick Swayze and less Joe Dirt or the aforementioned Billy Ray Cyrus.
We told him we liked it, and there was an actual pivotal moment. He stopped and said, "this is the first time y'all have agreed with me on anything!" For a moment, he felt heard and seen.
Bonding One Moment at a Time
It seemed silly when he first asked me to curl his hair. But maybe it was a small moment of bonding after all, even if not exactly how his dad had imagined that to happen. This is how parenting happens, through one moment at a time.
Oh, and I talked my stepson into trying curl enhancing product before taking the drastic step of a perm. And even if he does get a perm, hair grows!