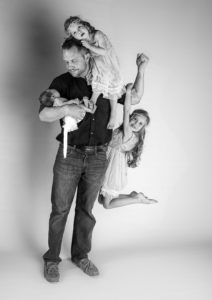 My husband knows me better than I know myself. When I'm filling out those quizzes, I have to ask him half the questions. Because he knows. He knows who I truly am. I have a tendency to keep pretending to be this person that I think I am. This ideal picture of who I should be in my head. But, he tells me. He tells me that's not who he fell in love with. He fell in love with this other person. The one that laughs sort of funny when she lets her guard down. The one that pretends to be all free-spirited, but really enjoys the idea of a plan. The one that was 10 pounds past her heaviest and had a Meg Ryan haircut – that only looks good on Meg Ryan – with two shades of bleached color that hair should never be and all kinds of issues in the middle of falling in love. I always tell him, he fell in love with me at my very worst. But actually, we have seen the worst. We have surged through the hardest of moments, together. Moments that should have broken us, but instead forged us closer together. I need him. And, I won't lie, it's in a desperate way. I miss him when he travels for work, I light up when he calls me in the middle of the day and I count down the minutes until he comes home from work. I need him. I love him and life is better when he is by my side.
But, he also drives me crazy. He can never find the trash can, I can look around and see evidence of everything he has done at the house for the day, he is ALWAYS snapping, he riles the kids up when it's time to calm down, he takes a million years to find the perfect parking spot and we research every possible option before making every single purchase. Drives. Me. Crazy.
But, as I have learned from "The Story of Us," I would much rather it be his things that drive me crazy than anyone else's. I'd much rather it be his "puffs of air" while sleeping that keep me up at night instead of someone else's gargle. Much rather it is him I fight with and drive off mad without a goodbye kiss. He's always waiting for me when I get back home, refusing to leave on bad terms, refusing to leave without a kiss and apologizing for telling me to calm down. Then, telling me that I look so cute when I'm mad. In every sense of the matter, I'd rather it be him.
It melts my heart to watch him dance with our girls in the living room, and for him to take my hand in the middle of cooking. For him to sing softly in my ear – a song he has sung to me for thirteen years now. Our song. Our girls' song. His song to us. It melts my heart to watch him build a tent, wrestle with them in our bed on Saturday mornings and chase them with water guns in our living room. It melts my heart to see him stay up late building walkers for their old lady costumes, design the perfect playhouse and build beds with the hard, take way too much time, curvy parts, that are to my liking. I know in every part of my heart that he would do anything for us, to make us happy.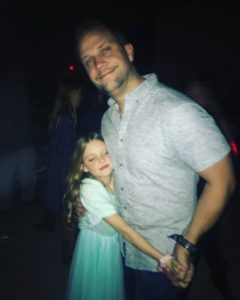 And, I'm so thankful, my girls got a part of him. This man that once thought he should be the father of boys. Who asked them to check twice when they said our first child was a girl and thought they must be wrong when they said our second was ALSO a girl. And, the one who was absolutely ready to take on this role as a "girl daddy" by the time our third daughter came along. I'm so thankful they got a part of one of the very best people I have ever known. I can see their minds work analytically, just like his. I can see the playfulness and silliness that he still holds onto in his fourteen-year-old-boy heart. That a part of him has never grown up, and our girls can connect to him in that way. That he's always the one that brings the fun and can make us laugh, no matter what our day has held. That he's now FULL of dad jokes and takes it on with so much pride. That I can look over at him in church, and although he looks like he may not be paying attention to the lecture, he is keeping the one in his lap quiet and occupied, with a hint of glitter sparkling in his beard.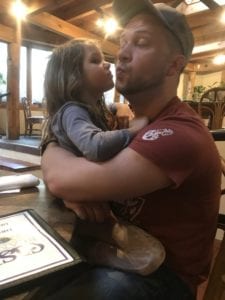 I'm thankful he decided to teach his daughters how to shoot and how to wrestle and how to climb trees and catch footballs. He teaches them to stand up for themselves and for others and how a woman is supposed to be treated. He shows them to not care what other people think and to know their worth. He tells them to know who it is God says they are and how to pray.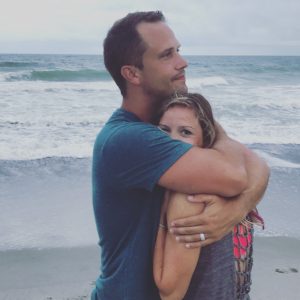 I'm thankful for who he has been through our very hard times. How he holds me as I collapse in his arms, and tells me it wasn't my fault that our youngest daughter was gone. How he wishes so much that he could have been there so I wouldn't have to carry that part by myself. How he prayed over me before he left for work when I was too weak and heartbroken to get out of bed. How he fought for me, and for our family when I was a shell of a person. When everything he knew and fell in love with crumbled into broken pieces and became something new. He encouraged me. Supported me. Begged me to eat. He was every bit of the strength we held onto until we were able to find some of our own. Who breaks down, when talking about his birthday always being the day after he buried his daughter. About how he loves being the dad of all girls. How he will never forget what it felt like for our youngest to fall asleep over his shoulder. How he climbed a tree to hang her wind chime higher. So I could break the rules and keep it out there by her, so I knew she could hear the dinging. How he got so scraped up doing so but didn't mind one bit. Because he was doing something for her. Doing something for me. How he always jumps and hits it, so it will chime for us before we leave. About how proud he is. To be their dad. To be my husband.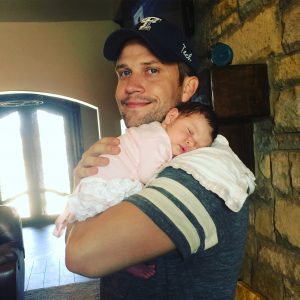 And, the craziest part is. I don't even know if he knows how valuable he is to all of us. How deep our love runs for him. In the middle of the eye-rolling, and faces we give him in response to his crazy dad dances. The smirks we muffle on the days we don't want to admit how funny he is, and the way I dramatically throw away the piece of trash he left sitting on the counter while giving him my best "you know!" look. I don't know if he gets it. How he's the only one we want. How he's always been the game changer. In the middle of every day just doing what he does. In the middle of his bringing the girls up to his work and cooking Saturday breakfast and popping tiny toes before bed. How he's the magic we hold on to. That we know we are the lucky ones. That we are the ones who have lived a life better, lived a life fuller, lived a life brighter – because he's the one that loves us.