If you're a mom who likes shopping, saving and consigning then this is perfect for you!
Lubbock Moms Blog has partnered up with Rhea Lana's of Lubbock for their 1 year anniversary event! Rhea who? Rhea Lana's! An upscale resale shop for all of us moms who love to save money.
I've shopped and sold at children's consignment shops and know that it's not always a great experience. Last time I consigned (not with Rhea Lana's), I was completely discouraged. As a seller, I spent so much time separating and preparing my items only be given a pretty low payment for what I had. As a buyer, I was turned off simply because the selection was of poor quality (stains, holes, funky smells, worn down fabrics), and the prices were often higher than what I would pay for a brand new item. I thought I was all done with the consigning world but then I found Rhea Lana's. I started researching and shortly after I was gathering items to consign.
What changed my mind is the Rhea Lana's difference! The ladies over at the shop pride themselves on only selling HIGH-QUALITY items (children's clothes, shoes, toys, books, DVDs, baby equipment, gently used maternity clothes and more) at affordable prices. When you shop you'll be pleased to find well cared for and selected items and regardless of what your budget is, you'll find plenty to chose from. One of the things that really made me an RL fan is the fact that they allow local foster, adoptive and families in need to shop for free at the end of the sales event. From there the items that are not picked up get donated to local non-profits. So far they have donated to Caleb's Closet and the Guadalupe Project. How awesome is that!?
Consigning with Rhea Lana's is made easy by their app, which (wait for it…) has a voice entry option! I'm not a lazy person but being able to enter 100+ items in verbally versus typing everything out cuts down on time, which means I get to relax sooner. Another favorite feature about the app is that you can watch your sales grow in real-time. Once you've entered your items in, hung them and secured a label tag, you simply take them to the store where the ladies will have your pre-printed barcodes all ready for you. Not only are you earning 70-75% of the sale but your items are also guaranteed against loss. The best part is that your check will be ready by the end of the sale!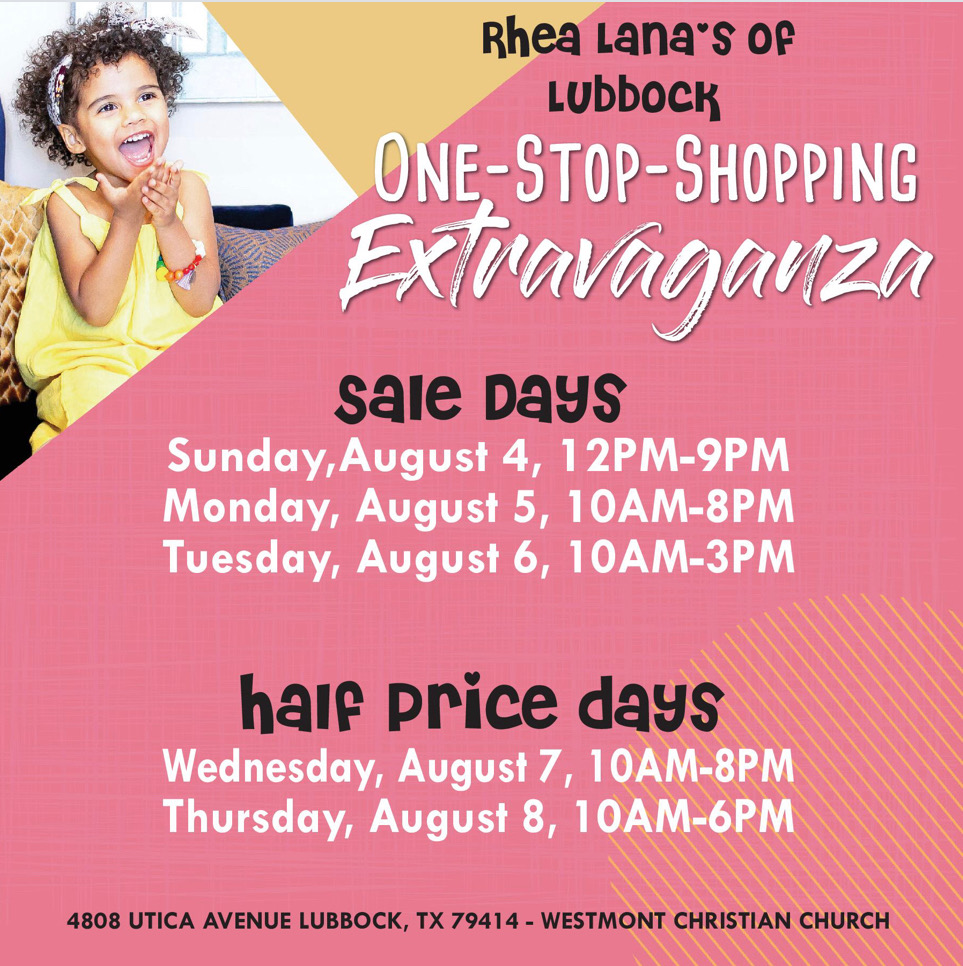 With all that being said, back to school is right around the corner and so is Rhea Lana's Fall/Winter/Back-to-School 5 day event. There is still time to register as a consigner. If you don't have time but want to consign then check out the VIP Consignors program where they do the work for you and you make 40% of the sales AND receive one of those coveted EARLY shopping passes for Pre-Sale Day and Half-Price Pre-Sale!
The event is August 4-8th with Pre-Sale SATURDAY, August 3rd. The pre-sale for consigners starts at 12pm, followed by Moms-To-Be and Military parents at 2pm and then Facebook and Instagram guests at 4pm.
Still have questions or want to partner up with Rhea Lana? Email chelsey@rhealana.com for more information and don't forget to check them out on Facebook and Instagram!
https://www.facebook.com/RheaLanasLubbock/