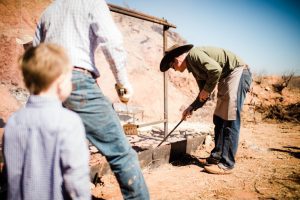 Like most of our West Texas staples, Canyon Valley Provisions was born from the work of generations before them. As the fifth generation of ranchers, the Canyon Valley Provisions family carries on holistic principles taught to them by their grandfather, who started in 1987.
When they began to have friends asking to purchase their one-of-a-kind flavored beef, Canyon Valley Provisions was created. 
While it is pretty common to hear that an animal is "grass-fed and grass-finished," the Canyon Valley Provisions beef is coined "wildcrafted." What sets them apart is that in addition to a "diverse salad bar of grass(es)," their cattle also have access to native rangelands that include "forbs, legumes, and woody plants to eat." With this particular diet, you can taste all of the flavor and nutrients that Canyon Valley Provisions is known for! Today you can purchase their quality beef, "completely absent of hormones, antibiotics, or pesticides," directly from Canyon Valley Provisions.

As a family of five, Jessica Ham and her husband Austin, the owners of Canyon Valley Provisions, know the struggle of being able to bring healthy and organic food to the table every night, especially at an affordable price.
As a customer of Canyon Valley Provisions, you benefit from knowing exactly where your food is coming from. That fact certainly brings confidence and trust that can't be beaten! If needed, Canyon Valley Provisions also offers payment plans and takes deposits (now) for August through December orders to be accessible for all families. CVP beef is sold in bulk by the quarter, half, or whole beef in order to keep prices lower and save families money.
To give you a 'taste' of what they offer, Canyon Valley Provisions will also be hosting their second annual Beef Party at the Ranch on April 23
rd
, 2022. This exciting event is perfect for a day date or even fun for the whole family!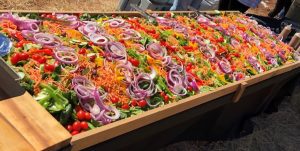 The Beef Party is hosted at the Canyon Valley Provisions Ranch, right outside Post, TX. After arriving, you will enjoy a beautiful view of the canyons as you make your way to the festivities. The hearty menu will include a delicious salad, hamburgers, roast, steak, and potatoes – all roasted over a giant fire pit right in front of you. While enjoying your meal, you will also get to hear from Veritas Medical's own Dr. Ben Edwards! 
You can purchase individual tickets for $30.00 each, or if you have a few more mouths to feed, you can buy a "family ticket" for only $100.00 and bring the entire crew! 
**When purchasing a "Family Ticket," please email info@canyonvalleyprovisions.com to RSVP with the number of people attending in your group.**

Canyon Valley Provisions will offer an EXCLUSIVE discount for Lubbock Moms readers! You can purchase your tickets for the 2022 Beef Party at the link below, using code "LUBBOCKMOMS."
Buy Tickets here: https://www.canyonvalleyprovisions.com/beef.
We can not wait to sample all that Canyon Valley Provisions offers for their Beef Party at the Ranch, and we hope you can join us!