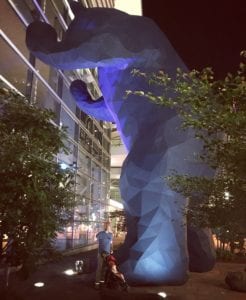 I love museums, art, music, basically all things cultural. I have been raised experiencing these things and knew it was important to expose my child to culture at an early age. But now that I am a parent to a toddler, I realize how brave my parents were to take me to these places as a child. You start to become aware of how loud your child can be or how they want to touch everything. And as someone who has worked in museums, I know it typically doesn't worry the staff, but sometimes it does. With many being closed or restricted on their number of visitors, it makes it even harder to visit.
So, what is a culturally conscious parent to do? I want to introduce you to the world of public art. Public art is just as the name says – art that is out in public spaces. You may immediately think of a bronze statue of a historical figure when you think of public art, and that is a part of it. However, public art can be a variety of shapes, sizes, materials, and colors. It can be permanent or temporary. It can be three-dimensional sculpture or come in other forms, such as murals, performances, and digital work.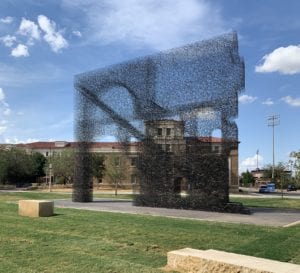 The goal of public art is to be publicly accessible to all, free to visit, and see up close and personal. It provides exposure to art for all people in their everyday lives. It is typically situated in areas that you would visit or come across while going through regular activities in your daily life. And most public art is site-specific, meaning it is made for its exact location. Even if a sculpture is abstract or something you can't immediately identify, you can use the context of your surroundings for clues as to what the piece might be or mean. Part of the fun of visiting art that isn't immediately apparent allows you to discuss with your child what they think it is or what they see represented in the art.
I love to share public art with parents because this is a form of artwork that is easy to share with children. You can enjoy time outdoors exploring the work with no worries of 'no touching' signs or quieting an excited child. They can run and see the works, get up close, and explore as they can't in many other places. It is typically free to view, too, so if they don't like something, no worries. You can move on to another piece or another location. Visiting public art is something that you can plan as a stand-alone activity or something you discover on your path to other activities.
You can encounter public art in any city you visit, including in parks, airports, universities, and lots of other places that you may visit anyway. Regardless of your art background, discovering art in unexpected spaces can always create a new memory, a fun photo opportunity, or even discussions on what is that thing in front of you. It's still a good idea to do a quick google search before your trip to see if they have public art that you want to find or art that could be near other sites you are planning to visit. Websites like https://www.publicartarchive.org will show you art in cities around the United States.
Even if you're not planning a vacation anytime soon, there is lots of public art to discover within Lubbock and nearby areas. A few you might want to check out on the weekend could be:
Texas Tech University Campus:

The Texas Tech System is home to one of the top 10 university public art collections in the nation. You can see over 100 artworks on the TTU campus any day or time. You can either park on campus and start exploring on your own or download the free ArTTrek app to find maps of the art on campus, preset tours, and a game to help you discover different pieces on campus. You can learn more about the Texas Tech University System's public art program here.

Louise Hopkins Underwood Center for the Arts (LHUCA) Campus:

The LHUCA campus is full of stunning and unique murals to visit. It is a fun space to walk around downtown Lubbock while finding some beautiful Instagram-worthy murals to take photos in front. They also have various sculptures out around the campus to visit. Learn more about LHUCA here.

City of Lubbock Public Art

: While the city doesn't have a dedicated public art program yet, they have many sculptures around town that you can visit associated with different businesses or projects around town. You can find works around town by visiting the City of Lubbock's website and seeing their interactive public art map here.

The Steel House:

Although this was built like a house, it is also a fun way to explore art in a functional form. The Steel House by Robert Bruno is located in Ransom Canyon and a fun site to explore the outdoor portion of the house. You can also walk across the street and visit another of his creations, the Stone House.

Cadillac Ranch: This is located in Amarillo, but one of the best well-known public art installations in the area. People from around the world see this unique installation and even add their mark to it. This is worth a visit if you are looking for a fun day trip with your family.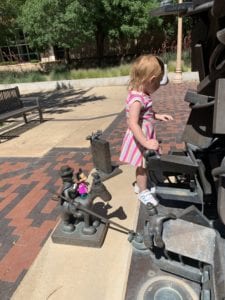 This list is by no means exhaustive but meant to show you a few public art installations you can visit with your family in Lubbock. I would love to hear comments on other public art that you have discovered or how your family enjoyed visiting any of these sites. Get out of the house and explore the world of public art!