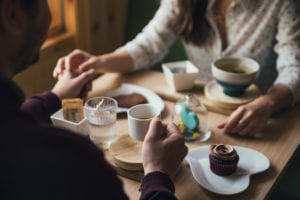 When I first met my husband, he had this silly theory that "day dates are the fastest way to friends." Meaning, if you only took a girl on lunch dates, she would friend-zone you quickly. OK buddy, maybe they didn't like you?? There is probably zero scientific evidence on this, but I remember him joking about it often.
Well, I have news for everyone.
It's 2020, we're both working adults, and we have a toddler at home.
All we have left are day dates. I don't think I could friend-zone him at this point even if I wanted to.
To steal a little "us" time, we have lunch together almost every day of the week. We're lucky that our lunch schedules are a bit more flexible, so we make it work, and it's so lovely to take an hour to catch up without having to worry about our little (or pay a babysitter).
I know what you're thinking, eating out can get so expensive! You're right! Sometimes we eat at home, and other times I see where the good deals are! I'll get to those in just a second.
I highly recommend having a few day dates! Do you both have an extra 45mins on Thursdays? Schedule a day date!
Pick up a few sandwiches and eat in the parking lot if you must. Just hang with your spouse.
I'm always on the lookout for great deals. Recently on the radio, I heard I could get a coupon for a buy-one, get-one-free deal at a local restaurant. I took full advantage of that deal and printed off my coupon.
Another way to cut costs is to drink water. It's probably the only water I drink all day (yikes), and I know I'm not the only one. Typically, restaurants charge $2.50/drink. That's an extra $5 added to your lunch tab.
Here are a few of our favorite
CHEAP
lunch options:
Monday
Taco Villa – $1.25 Bean Burritos
Tuesday
Double Dave's – $1.00 Pizza Rolls
Wednesday
Chinese Kitchen – $3.99 for the main entrée, fried rice, and an egg roll
Friday
United/Market Street – $5 Sushi
Everyday Specials
United/Market Street – $3.99 for two large slices of pizza and a medium drink
Sam's Club – $2.50 for a large slice of pizza and a large drink or $1.99 Crispy Chicken Sandwich
Costco – $1.50 Hot Dog and a drink
Wendy's – $4.00 – Choice of sandwich, nuggets, fries, and a drink
What are your favorite cheap lunch spots?