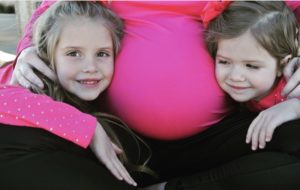 I was always afraid of having a girl.
Every. Single. Time. When I got pregnant, I would tell myself that God knew better. He knew how inadequate and under-qualified I felt when it came to the idea of raising girls. I thought He knew I couldn't handle that. I thought He knew how miserably I would fail. And yet, time after time, He kept giving me these girls that I can't imagine my life without.
And the last time, it was all just such a shock. In the middle of what was feeling like our world was falling apart, God surprised us with this blessing. A blessing we thought was no longer a possibility. And yet, here I was sitting with a baby in my belly, another baby GIRL in my belly. But, this time, however, it somehow felt different. Maybe because we had spent the last two years waiting and loving on little boys, we only had for moments, and we thought she would bring so much more certainty to our lives. Or how the Lord had used her to direct our steps in a different direction and allowed us to move forward. Or, maybe it's because she became this little ray of sunshine glowing behind the clouds as our storm rolled away, allowing us to focus on the beauty displayed in front of us from our Lord, instead of the disheveled messes that we had become through weathering the rain that had fallen for so long. Or, maybe because it simply was the only emotion I had left to feel.
But this time, this time, I found a way to peace. Not because I felt any more adequate than I did over five years before our first daughter, but rather I simply trusted my Lord, more. And, I finally figured out that in all the many ways that I felt lacking, my Lord never is.
I ran forward with that. I had pink windshield wipers and pink mats in my car, to celebrate everything girl. We had ruffles and tutus and glitter and bows everywhere. I hung a sign in their bathroom that said, "She's the perfect combination of warrior and princess." And that became our motto. Splashing in puddles with pink lipstick on. Climbing trees in dresses. Dancing with Daddy in the evenings, that turned into stealth attack mode. Even though this was the exact opposite of how I had imagined things, I embraced what God gave me, with open arms. And the blessings through sweet little girls fell down on us, butterfly kisses and ballerina dances and nail painting parties. Sleepovers and tea parties with baby dolls and puppies. Front stage sing-a-longs and twinkle lights under tents and jumping to the moon on the trampoline. The simple, most beautiful things.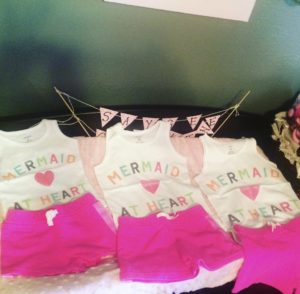 And, I do mess up. There are days where I do everything wrong, where I feel like I failed them in a million different ways. And, we stop, and I tell them I'm sorry, and they look up at me with little faces full of God's grace, and we start over or try again, or sit on the couch and eat cookie dough together and call it a day. Either way, God knew exactly what my heart needed when He gave me my three girls. Each one, in her own unique way, has changed me for the better and has taught me so much more than I ever could have imagined.
Through being the Momma of my three girls, I have learned what the important things are to focus on and how to be a better everything. They have taught me patience and whimsy and tenderness and the magic of giggles. But also determination, passion, and strength. That girls are undefinable and so very capable. That it is an honor to be created by our Father, and be proud of every ounce of that what it means to be captivating and to look at myself with grace if I want them to look at themselves with grace.
But, most importantly, what I am learning, is that with God but my side, I am so enough. I am what they want and what they need. Even with no make-up, crazy hair bun, and a little frazzled attitude, they want me. Just as I am. They pull me in and hold on tight.
And I'm learning to rest in that.
Have peace in that.
Enjoy it with all my heart.
With the realization that perhaps what God has truly done is transformed one of my biggest fears, into one of my biggest blessings.