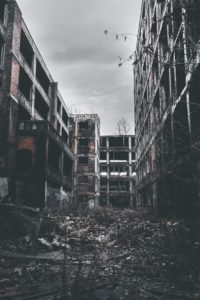 There will always be times when things don't go the way we want them to, where our plans or hopes or dreams don't go as expected and crumble and fall around us, leaving us in the rubble—sometimes standing in our nightgown and slippers out in the open. Front and center, for everyone to see. Watching us rise in the wreckage of what we once thought we were building.
Of all that, despite ourselves, and how we wished things were different, had fallen apart—left not knowing which direction to turn. Which way to look, or who we can become. When the only options are given are to fall apart with the rubble or to find somehow a way to heal and rebuild.
Both decisions being on stage. With the people around us, outside the rubble, looking on.
There will always be observers. That's just a part of it all. People are watching, looking for something to talk about. People are watching, looking for something to learn when you all of a sudden feel alone in a room full of people. When you feel like you should be passing out popcorn as you walk past the stares when the people around you, all of a sudden become something different than they were before.
And you will have to learn how to do what's best for you, anyways, how to not care about the opinion of others or what they might be thinking or what is expected and keeping all the traditions while breaking some of the rules to find the things that heal your heart and hold fast.
You will have to discover a whole new you. Rebuild a new version. Take some risks and hold on to courage and trial and error your way through finding what works and what doesn't, and what you can tolerate and what you can not—all in front of a crowd.
The art is standing in the rubble. How to overlook the ones who have no idea what you are going through or what your morning was like, or even what your year was like while giving yourself grace and room to grow in between the cracks of all the brokenness, how to cut yourself some slack.
Maybe even laugh a little. Laugh at the chaos. And the moments you find yourself in, and the crazy things you ended up saying to the guy at the cash register. Laugh. And move forward. Learn to look past it all, past all the stares and comments and judgment while not taking it all so seriously. Just do the best you can with what you've got.
Soon after we lost Sayge, I found myself in the emergency room, fighting for my life, presenting with what looked like a panic attack on drugs. I was reacting to my undiagnosed serotonin syndrome. I couldn't speak, was shaking, struggling to breathe, and was unable to be responsive. But I could hear everything.
I remember telling Shawn over and over in my head how much I loved him. I remember hearing what people were saying. I remember hearing the nurses laughing. Jokingly guessing what drugs they thought I had been on. And that has stuck with me. The way they had no idea. No idea my daughter had recently died. No idea I was simply on an anti-depressant I was reacting horribly. No idea, I was fighting for my life while they made jokes about me. No idea.
I recently found myself in the emergency room once again. One moment I had a bad headache and was dizzy; the next, I was struggling to walk, talk, or stay awake. And, while waiting for lab results and cat scan results and diagnosis, a nurse helped me walk from one place to another—my competent body of yesterday, all of a sudden completely incapable.
I mustered out in a whisper, tears filling my eyes, that I knew something was wrong. And, she stopped, held me, and asked me if she could pray over me. Brought God right down into the middle of my fear and provided comfort.
And, that has stuck with me. The way she had no idea. No idea it had just recently been the anniversary of my daughter's death. No idea I was reacting from a recent concussion. No idea how desperately I needed God to be my strength at that moment, that I was begging for prayer to fall over me. No idea how she was the answer to my prayer. No idea.
And, when you find yourself as the one in the middle of things falling apart when you see it's your view looking out at all the faces when life completely knocks the breath out of you and leaves you spinning, I hope that people pray for you as much as they discuss you. I hope there are more cheerer oners than tearer downers. More I'm so sorry this has happened to you, than unsolicited advice. More caring than judging based on what they think they know. I hope you give them something to learn more than something to watch. I hope you pass out grace with the popcorn.
And, more than anything, I hope you find your people. The people willing to do more than look on. The ones that stand with you in the storm. Sit with you in the silence. Set anyone straight who has something wrong to say. Has your back, even if you're wrong, and kindly puts you in your place when needed. The people that hold you and pray for you, in the middle of the hospital corridor. I hope you find the ones that have been there, found their way through the rubble before you. Show you how to look up, when you don't know where else to look, and how to let God guide you where to go, how to build something beautiful with the broken pieces, how to make a fool out of yourself, and laugh about it with you later.
So that someday, when you find yourself standing firm on the other side. When you look up and realize all of a sudden breathing has become easier. You can be that person for someone else. A person who goes past the gazes of looking on, past the whispers of what people don't know, up into the middle of the wreckage, and stretches out a hand to hold onto and a prayer to live on. I pray that you leave people better than when you found them.