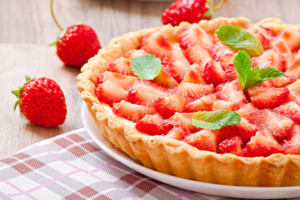 Not too long ago, shortly before his 12th birthday, my middle child asked to make a strawberry pie. Well, technically, he sent me a text from across the room, but I digress. The conversation went something like this:
Child: Can I make a strawberry pie?

Me: Of course! Find a recipe and make an ingredient list. I might need to get a few things.

Child: No recipe. I know what I'm doing.

Me: Okay, if you're sure!
A few minutes later, however, I overheard, "well, this isn't turning out as I thought." I checked on him, and he did indeed have a sticky, goopy mess. I told him no big deal, we would clean it up, and he could try the next day again. Maybe with a recipe next time.
He wasn't happy, though. I let him have some time alone, but then I went to check on him. He was sad and disappointed. He was upset the pie didn't work out and upset with himself. That's a life lesson right there. But he's a lot like his mama. He wears his heart on his sleeve, is emotionally sensitive, and is hard on himself.
We had a good chat. I took the time to remind him that I rarely cook without looking at a recipe for guidance. When I was little and told my grandmother I wanted to learn to bake bread, we talked about the first thing she did was grab a cookbook. Using a recipe was not a bad thing! And also that we need to give ourselves some slack, learning something new can be hard.
Later, it dawned on me that parenting is a lot like cooking without a recipe. Sometimes things work out, and sometimes you wind up with a sticky, goopy mess! Blessedly, if you do have a mess, you usually get the opportunity to scrap it all and start over. Even if you do get one phase or one child "figured out," the next one can throw you for a loop. It's sort of like how I can whip up a batch of pancakes without a recipe, but I wouldn't dare make a cake without one!
In case you're wondering, he made a strawberry pie the next day using this recipe. He made it all by himself, crust and all, and it was fantastic!