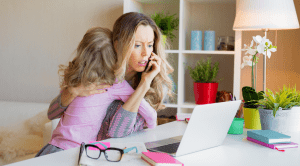 Have you ever been so scared of change that you just choose not to do anything about it? That was me when it came down to having kids and a career.
I was made to be a mom, but I was also made to be a teacher. I had an entire "playroom" dedicated to becoming a classroom that included a chalkboard and a whiteboard. I know, incredibly impressive. My mom took me to the teacher store for rewards instead of the toy aisle at Wal Mart. As you can see, I was born to teach.
The little Granzows have been named since before they knew what their last names would be. I literally prayed every night since third grade that my daughter would look just like me, and it worked. She does. Now, her attitude comes from her Daddy, but she is undeniably my twin, and I love that.
So what is a mom to do when these two perfectly planned worlds collide? Deny, Deny, Deny.
My husband encouraged me from the moment I conceived my firstborn to stay home. If you had a fantastic childhood, you're always looking to recreate that, and I believe that was his goal for me. He had a mom who stayed home, was active in PTA, and was present for every home and away basketball game.
All sounds good and well, but I had a mom who worked her tail off, only made the significant events like Parents Night, Senior Night, or Nationals, and yet still was a life-time member of the PTA and room mom. After speaking with my mom now, she would have much rather have been home full-time, but she made being a working, active mom look easy.
Therefore, I never expected to be anything less. I'm from a family of strong-willed women who run the world, and I was determined to be just like them. Instead of working three jobs and raising three kids like my grandmother, I was determined to be the mom, coach, and teacher who had her baby on her hip while changing the lives of future generations.
I fought the decision to stay home until my second child turned two. This was when I had to decide to either send both to daycare or stay home and be an annoying stereotype. I'm a daycare baby myself, so that should be the easy option, right? No. I couldn't do it. Not because the daycare was horrible. It wasn't. It looked terrific, and my son was ready to make new friends. The issue was that I couldn't let go.
Sending your children to a grandparent's house during the day is incredibly different from dropping them off with strangers. At that moment, I decided to give up my career, which I had made big plans for, to stay home with my sweet babies who drove me freaking crazy if with them for any lengthy time.
And thus, the anxiety set in. How am I supposed to be with MY kids 24/7? All-day long? No adult contact? No break? I'm a working mom, and this will never work. Am I letting my family down by submitting to an outdated perception of motherhood? All of these things I repeated to my husband over and over. I can't do this. This is going to be horrible. I'm going to miss out. I'm going to be miserable. I'm going to be lonely and depressed. Me. Me. Me.
And yet the reality of it was and is that I am happier than I could have ever imagined. This was not what I had planned in high school or college or even during pregnancy, but man, this is a pretty awesome life with a beautiful transition. It was painless in all ways imagined. It was as though I was more than ready for a new chapter in my mom's book, the stay at home mom version.
Today, I am busier than ever. As soon as I started to stay home, my two-year-old was potty trained, literally in 3 days of me being back. My kids are incredibly active in the community, frequenting all of the local parks that I never knew existed and never thought to take them to if I were still working. I always get "my time" during naps or playdates, and I learned I really do love my children more than I could've imagined. I enjoy spending 24/7 with them. I enjoy watching them grow and learn and create an incredible vocabulary that makes this previous English teacher ebullient.
Perhaps for a season, I was made to be all, a teacher, a working mom, and now a full-time stay at home mom. Maybe I was made to be everything I planned for myself and more.
What's your situation? Are you scared to make a change from either side? Tell me about it in the comments below.