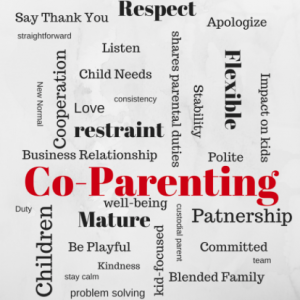 This goes out to all of you "co-parents."
Wikipedia's definition of co-parenting: "Co-parenting refers to a parenting situation where adults share the duties of parenting a child. Coparents may include a variety of configurations, including two mothers, two fathers, a parent with an adult sibling or grandparent, or a parent and another adult relative."
My husband and I have 3 kids. That is how we describe our family. In a technical world where everyone uses labels, it would be "my" daughter and "our" two kids. If you're not following me yet I will explain. When I was 19 years old, I gave birth to my Ness. Her dad and I were simply young and not made for each other. Eventually, we both met the people who we were meant to be with and that's where we are now. Ness is extra loved by two sets of parents and four grandparents. Here in Texas, she has me, her dad (my husband) and her brother and sister. In California, she has her biological dad and her bonus mom, Mrs. M.
Two families in different states are tough! We share holidays, school vacations, birthdays and life in general. The only downfall is missing her so much when she's not with me. Mrs. M and I text on a regular basis, we talk about our individual lives and not just about our daughter. I'd say that we have a special friendship and I truly am thankful that she loves my little girl so much.
Our perfect co-parenting relationship was not always like this. For many years we were hostile towards each other and like most co-families, we argued over the tiniest things. To be honest, I was just young. C'mon, I was a 19-year-old kid who was raising a kid! Co-parenting is rough on anyone and tends to bring out the worst in people. That along with the fact that I wasn't fully matured made for a horrible combination. I remember what a drag it was to never agree on anything or to feel that I was "sharing" my child. It was always stressful and I'm sure that the only person who was actually hurt by all that was our daughter. Fixing our relationship didn't happen overnight. On my part, it took a lot of apologizing and admitting when I was wrong. Communicating even when I didn't want to, and most importantly, accepting and appreciating Mrs. M. From the start. She has loved Ness and cared for her just as if she was her own blood just as my husband has! My husband loves Ness not only as if she were his own, but also has never treated her any different than our other two children.
My advice for all the blended families out there is simple… PUT YOUR CHILDREN FIRST! Regardless of how you feel about the other parent, know that your children are the only ones who will end up hurt. They may not tell you what they know, but children see everything and know more than we give them credit for. I know that every situation is different. Some parents have gone through nasty divorces and custody battles; some parents are hurt and may feel as though the other parent doesn't deserve to spend time with the children; some parents may not have issues at all. I strongly believe that children must be protected and shielded from adult problems – they are innocent bystanders. It is our responsibility as parents to make sure that our children maintain a good relationship with the other parent. Let your children figure things out for themselves. Let them grow up loving each parent and if at the end of the road one parent ruins that relationship, it will be on that parent. Reality check: Keeping your child from having a relationship with the other parent is SELFISH. Don't be that parent! Be a good example – teach love and respect.
[The best interest of the child is what we all strive for, so it goes without saying that if a parent has a history of violence or a drug/alcohol problem, then precautions must be taken. If you suspect abuse of any kind, know that you can always reach out to your family doctor or local police department who can assist you.]
As always, I appreciate your feedback and love getting questions and requests!
-PK
Lubbock Police Department 806-775-2865
Lubbock County Sheriff's Office 806-775-1400
Wolfforth Police Department 806-866-4605
Slaton Police Department 806-828-2020
Texas Child Protective Services 800-252-5400