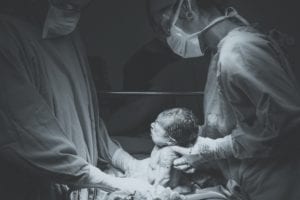 My identity since college graduation has been that I am a nurse, a labor and delivery nurse to be specific. I love it so much. I love being there for someone's biggest day, holding their hand through the pain and the unknown, announcing their baby's weight, and educating them on what is to come. All while growing in my career, I got married, worked my way through newlywed life, and a year later we were pregnant. Since then, we have been balancing work and raising kids. Thankfully, my husband is great and has helped tremendously in this work-life balance. I feel like we've developed a good system of making it all work, and loving our family well through it.
For many, being a stay at home mom is what they have always wanted to do. But for myself, being a working mom has been so great for our family dynamic. For one, work has given me personal time. I get to spend 36 hours a week with my best friends! They know everything about me and have walked through just about everything with me. I get to go to work and interact with other adults and enjoy my job at the same time. Meanwhile, my kids are between PDO and time with my husband/their dad. I personally think PDO has been great for my children to give them social interaction, structure, learning to obey other adults, and exposure to new curricula. Also, time with Dad is super important. My husband has just as much responsibility as myself between kids, cleaning, and cooking. This has been great for our marriage! On my days off each week, I get to spend quality time with my kids. We make play dates, go places, and have our own lessons at home. These are the moments I treasure so much.
I know this dynamic is not for everyone; a nurse's schedule is one of a kind. For any working mom out there though, just know that you're doing a great job. There is so much pressure to be a SAHM or be a full time working mom. To homeschool, or send them to a public or private school. The list goes on and on of what choices we should make and how. Ultimately, your own family dynamic should be the deciding factor. Try to not compare yourself to anyone else and her situation. Easier said than done, right? Whether you are working to make ends meet financially, or because you simply cannot see yourself staying home, you're making the right choice for you.
My kids love that I work. My daughter knows that I "work with babies" (we don't have to go into details about how the babies arrive) and she recognizes my hospital's symbol around town. She knows when mommy has a day off with her, which excites her, and the same for daddy. And when we do all have a day off together it is treasured time. The business of it all brings such joy to the moments we do have.
So if you are a working mom, you're doing great. Use the opportunity to tell your kids what you do, why you do it, and why it makes you happy. What a testament to your sacrifice, time balance, and trust it will show them.