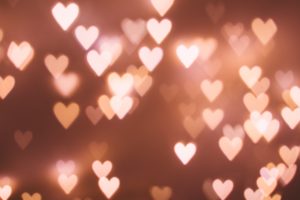 Valentine's Day seems to have a bad rap for some people. I hear how it's been over-commercialized and is an important reminder of what you don't have if you're single or what all your exes did wrong if you've been hurt. And if you're married, I hear how it becomes something you used to do when the romance was alive, or this year it's just not worth it, and people would rather skip the hustle and bustle and have a little drink after the kids go to bed.
But, I'm here today to propose looking at Valentine's Day in a new light. That has nothing to do with anyone else. I recommend making Valentine's Day – one day out of the entire year that you absolutely embrace and love everything – about none other than yourself. You heard me. All of those flaws you typically gawk at, all those negative things you whisper in your head. All those excuses you give when someone offers a compliment. NO MORE! Not a single one for an entire day.
Spend the day looking in the mirror, not tearing yourself apart, but loving the woman looking back at you. No wrinkles, but laugh lines. No dark circles, but proof that you have made it through hard nights. No cellulite and scars, but good food with good friends, and stories to tell. Not a stretched-out stomach, but an incredible miracle of holding life under your heart. No flat feet, but feet that have walked a journey to get to where you are. No winged arms, but arms that have held people together. Not anxiety or depression or PTSD, or fear of not being enough, but absolutely completely covered in grace and imperfectly perfect. No crazy hair or flat hair or frizzy hair or thinning hair or grey hair, but the place by which we carry our invisible crown.
The crown of womanhood that we earned from long days and longer nights. The crown we made from tears we cried, and grit we gave, and courage we harnessed. The crown that tells of all the many ways we overcome. The crown that shines of possibility and capability and what life looks like when we don't hold ourselves back. When someone says how they like something about you, because they will, simply say thank you. And maybe, even offer a compliment back.
Make Valentines Day the excuse to do one thing, something, only for yourself. Something that you love and brings you happiness and a warm, fuzzy feeling inside. Whether it's reading a book or watching a movie or working out. Maybe it's eating at that particular place or getting dessert. Get a massage, take a bath, or even a nap! Find the thing that recharges your soul and hold onto it. Say GOOD stuff about yourself…
"You can do hard things. You are really good at multi-tasking. Cheering up your children is one of your best qualities. You can "drop it like it's hot" better than most. Your mac and cheese is on point tonight!" Fold into the creases of your heart that you are essential. You are worthy. You are enough. You are fantastic, and you are loved. Discard all the lies that try to hold you back from seeing all that you are and all that you're capable of and all the good that is waiting for you.
On this day, that so many people begrudgingly make their way through, transform your mind, and make it something more. Make it the day you love yourself fully. The day you see yourself through the eyes of those that you take care of and love you. Don't let a single bad thing about yourself be uttered through those beautiful lips. And then, watch the magic unfold. Embrace the feeling that wraps around your heart and let yourself breathe again as you learn to be unapologetic. For all the little things and unique traits that make you who you are. For all the ways, God has made you exactly what your children need. Learn to be proud of the ways you are captivating to those that love you and hold your heart. But, most importantly, learn to love yourself exactly as you are.
And maybe, just maybe, dare to wake up in the morning and do it all over again. On the day AFTER Valentine's Day. Learn how to love yourself every day.
And maybe, because you are brave, dare to say the good you see in other women around you. In everyone around you. Tell them what you love and admire about them. Tell her how well she walks in those high heels. And when they dare to tell you that you are wrong, put your finger over their beautiful lips. Tell them they are the ones that are mistaken. Tell them that you are fantastic, but, more importantly, that you are right. And they are, indeed, loved and beautiful. And should hold their head as high as those heels. And then, tell them about your Valentine's Day.