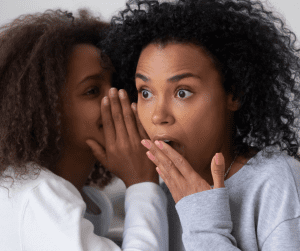 I started thinking about this piece and wanted to write about things that should not be said to a single mom, but it was getting too heavy for me. I decided to tell you some secrets I have kept while on this Single Mom journey.
SECRET 1
My daughter was born early and spent ten days in the NICU in Amarillo. During this time, I resided at the Ronald McDonald House. A wonderful woman was working at the House overnights. She would see me coming in from a day of visits looking like who da thunk it. I decided one night to sit in her office. We chewed the fat for a few minutes when I decided to unleash on her. I told her about how I walked around in Walmart, not knowing my water had broken. How my mom was my coach, and her necklace kept hitting me in the face when I pushed and how she used her "Principal" voice when I wanted to quit. The session ended as we laughed until tears ran down our legs until some random dude walked in, not realizing he was in the wrong room because he was on his phone. You should have seen his face!
SECRET 2
At the ripe age of 35, I lived with my parents for a few months with my newborn. As my mom worked on her computer, I plopped my daughter's car seat on the table, trying to adjust the straps. When I could not figure it out, I put my daughter in the car seat and strapped her in. Mom and I started talking about how the straps work, and we were looking at each other as I was pulling on them. My daughter starts to cry. My Mom and I are so confused. "Why is she crying?" Then I realized I had tightened the straps with her in the seat. I could not get her unbuckled fast enough. I looked at my mom and said, "Don't you ever tell anyone about that!"
SECRET 3
Let's fast forward to a memory my daughter will NEVER let me live down. She was about 4. We had two dogs but not the two we have now. Both were runners, as in a door opens and they gone. The mailman rang my doorbell, and both dogs were in the house. I opened the door, chatted, and we both watched as Ollie Dog walked up to me, got a pet from the mailman, and then took off running. He ran like Forrest Gump, and there was nothing Jenny could do about it. The mailman left. I sat my daughter on my bed and called my other dog in the room with her. I told her I had to get Ollie and that Chloe was going to watch her. I LEFT THIS ELDERLY DEAF DOG IN CHARGE OF MY 4-YEAR-OLD WHILE I RAN AROUND THE PARK 4 TIMES TRYING TO CATCH MY OTHER DOG. When I returned to the house, Chloe and Emery were exactly where I had left them, just sitting on my bed.
Do you have confessions? Do you feel like enough time has passed that you could share them?