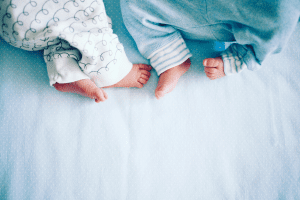 Last night, I was up enjoying the silence while my boys were asleep and scrolling through Instagram and saw an image that brought a familiar chill through my body. Suddenly, guilt and grief from 12 years ago crept from a special, sometimes hidden, place in my heart all the way to my eyes that made the black-and-white picture of heartbreak sitting on the edge of a hospital bed blurry from the tears.
Chrissy Teigen.
She's the best friend we wish we all had – her confidence in herself and her, 'Your opinion is valid, but does not validate me' approach to her life. But, just before midnight, I saw her heart was broken, before even reading the caption … I knew.
I knew that heartbreak and can never forget the mixture of crippling guilt, disappointment, grief, and unanswered questions.
No matter how many children came before or came after, you never forget the one you felt like you couldn't protect.
Twelve years ago, I sat at a computer and typed out the exact same emotions, the same way Chrissy did.
Twelve years, two pregnancies, and the ability to leave the hospital with a baby later, I was no longer 1 in 4. Chrissy was just like me.
1 in 4 women will suffer pregnancy and/or infant loss, but when at the moment when you're that one, it is hard to grasp that others have felt or will feel the same as you do at that moment.
Chrissy's baby "Jack" … my baby Jordan … all of the babies that were born sleeping … to all the women [and men] who have babies that they continue to hold in their hearts –
You are not alone. I see your grief, your strength, and your struggle. I, too, am 1 in 4.