Now that wearing a mask is as routine as brushing my teeth, 2020 has given me one more thing to worry about – MASKne. While I have always been taught to take care of my skin, I didn't REALLY start making an effort until probably last year. Occasionally, I still fall asleep with my makeup on or don't always wash my face before bed. With the masks added to the mix, taking care of my skin and finding good products that actually work has definitely been a challenge, until now!
I started using the Dermatologist's Choice skincare line a little over a month ago, and frankly, my skin has never looked better! It has improved everything from acne, discoloration, and even those pesky fine lines! Here is my before and after!
Before: After With no Makeup: After With Makeup: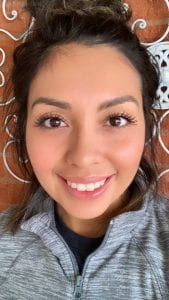 As you can see above, after using the skincare for just over a month, it has visibly reduced the lines around my eyes! Also, it has taken care of my acne and given me glowing, evenly toned skin too! While I do go makeup-free, I won't lie and say that it had been easy. I found myself worried and insecure about going out in public without it. Now, with Dermatologist's Choice, almost every single time I have gone makeup-free, I have gotten compliments about how good my skin looks! I recently went on a trip, and a friend I was with, couldn't believe the only thing I had on was the Dermatologist's Choice moisturizer.

My favorite part of the skincare line is what they refer to as the "Trustworthy Tingle." When applying the products, I could feel that "Tingle" every time, which is stated to signify "the compound working to generate cell turnover." All of the products are made in the USA, are hypoallergenic, paraben, and cruelty-free are comprised of all-natural and organic ingredients.
Dermatologist's Choice has so many good products in their line ranging from skincare solutions, anti-aging, and even shower oils! You can find all of these and more info at https://www.dermatologistschoice.com!