This evening finds me closing the door after having had to talk to the gentleman that mows my lawn. What he doesn't know is that I sat wide-eyed, looking at my kid as the doorbell rang and then rang again. "I have this damn Dollar Store 'Deep Cleansing Charcoal Nose Strip' on my nose." I kept saying it over and over in a whisper, which generated hands going over her mouth and little giggles escaping from Emery. I have never used one, and the ONE time I do, someone rings my doorbell!
Speaking of ringing, I can work at the office for a few hours a day during this time of corona. Most times, I do not hear much from home until I get back, but just like my nose strip, today was upside down.
Emery calls and asks if she can eat some bacon. To be able to do this, she has to use the microwave for 30-45 seconds. Yes, make some bacon (but don't use it all). She also fixed her some eggs in this little contraption Grandmama gave her. Again, another way to use the microwave and not the stove. She makes the perfect eggs!
My second call from her, I see she is sitting at the table with the big shaker of sea salt and a pile of it on her plate. She is just picking up the salt and letting it fall back onto her plate. Her egg is under there, and the lid completely popped off as she "barely" shook it. I advised to just clean it up and start over.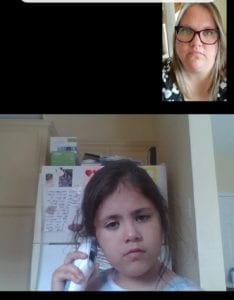 The third and final call, she was confused about the time needed for the bacon and cooked it for 3 minutes and 30 seconds, sending a wave of burned bacon aroma into every corner of the house. I could smell it through the phone. She tells me she has a stomach ache and "I hope I don't have it" (meaning corona). She is checking her temp in both ears because the other is probably wrong.
I hope that even in these times, you can find some laughter in every day. The upside-down may be the funniest part. The part that breaks the reality of lost wages, lost time at school, and every day hoping today isn't the day you have any symptom. Keep cooking that bacon; just call me before for timing.