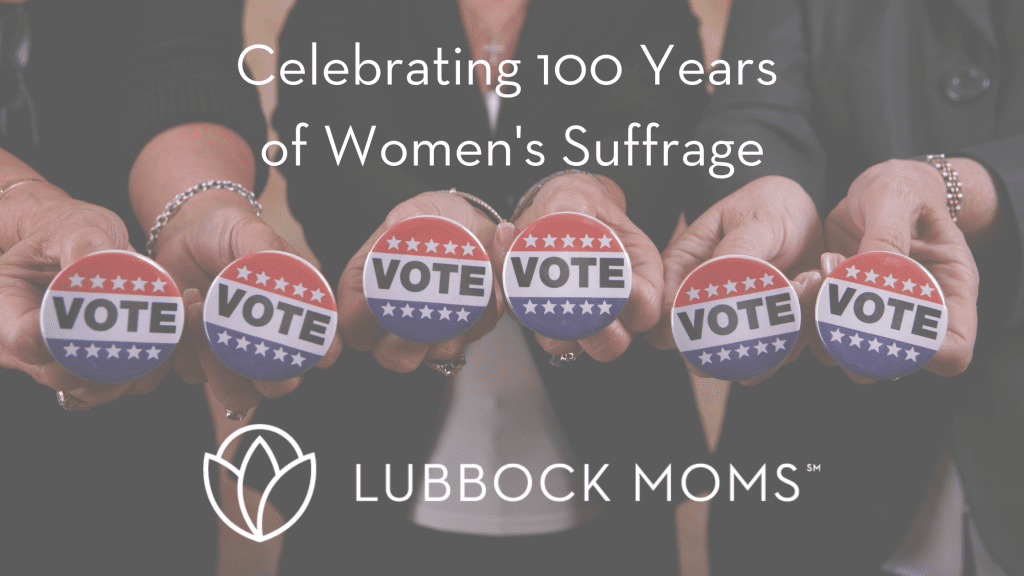 Tuesday, August 18, 2020, was the 100th Anniversary of ratifying the 19th Amendment of the U.S. Constitution. If you need a refresher on your amendments, 19 is a big one. It gave women nationwide the right to vote, and I'd say that's a reason to celebrate!
As a mom, I am always looking for teachable moments with my son, and I can think of no better way to raise an informed citizen, history buff, and socially conscious kid than to break down the cause of suffrage. It's also important to me that he know and realize that there is a long arc to equality and justice and that the freedoms he and I enjoy today weren't always available to all.
Let's dig in!
Did You Know?
The women's suffrage movement formally began in 1848 with a convention in Seneca Falls, NY. At the convention, they adopted a "Declaration of Sentiments" modeled after the preamble of the Declaration of Independence, saying, "We hold these truths to be self-evident: that all men and women are created equal." You know Angelica Schuyler would have approved – WORK! (shameless Hamilton reference, and I'm not sorry.)
When I say the arc of equality is long, I mean it. There is some debate as to when the movement began in earnest. Still, according to TTU associate professor of U.S. History, Emily Skidmore, "…there were women as far back as the 1700s who were arguing for women to be included in politics." In March of 1776, Abigail Adams wrote a letter to her husband and future U.S. President John Adams while participating in the Continental Congress, asking him and his fellow members to "remember the ladies and be more generous and favorable to them than your ancestors." LOVE!
The Women's suffrage movement was not passive and without risk. These brave women lobbied and petitioned, picketed and demonstrated, marched, and faced arrests and imprisonment.
The movement appreciated symbolism and loved a good theme! The colors adopted by the campaign were purple, gold, and white. "Purple is the color of loyalty, constancy to purpose, unswerving steadfastness to a cause. White, the emblem of purity, symbolizes the quality of our purpose; and gold, the color of light and life, is as the torch that guides our purpose, pure and unswerving." (National Woman's Party Newsletter, December 6, 1913.)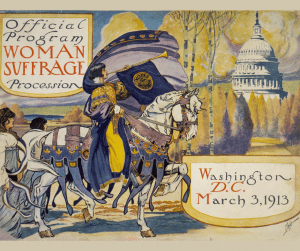 The U.S. House of Representatives approved the 19th Amendment on May 21, 1919, and the U.S. Senate followed two weeks later. Then the Amendment went to the states, which had to be ratified by three-fourths of the 48 states to be added to the Constitution.
Texas was the ninth state in the country and the first in the south to ratify the Amendment (Good on you, Texas!) Here, you can read a fascinating timeline of Texas' role in the women's suffrage movement.
While the 19th Amendment clearly stated that discrimination based on sex cannot stand, many women still faced discrimination on other grounds. For example, if you were a Black woman in the south, you likely could not vote until the Voting Rights Act of 1965. Check out this fascinating article (part two of a three-part series in Texas Tech Today) about how the Amendment fell short of benefiting all women.
Even the founding mothers of the women's suffrage movement Elizabeth Cady Stanton and Susan B. Anthony have a complicated history regarding race. During the fight for suffrage, they leaned on racism to appeal to white Southern legislators to gain their support toward the end of the battle.
Several lesser-known leaders in the suffrage movement were doing the work to bring the vote to ALL women. Read more about Sojourner Truth, Fannie Lou Hamer, Mary Ann Shadd Cary, and Ida B. Wells, to name a few.
I love reading the stories of these bold, audacious women taking up space during a time when they were routinely told to hush up and know their role (See image below and feel my audible eye-roll at this tomfoolery).
As women and mothers, we bring a unique perspective to the table, regardless of political affiliation. Our engagement in the democratic process is vital.
As a child, I remember my grandmother volunteering at polling locations. My parents were active voters, and that example struck a chord with me. I've served as a volunteer deputy voter registrar and feel most patriotic when I step into a voting booth to participate in the democratic process. I'm trying to raise a kid who is just as excited about turning 18 and getting the opportunity to vote as he is about turning 16 and jumping behind a steering wheel (wish me luck)!
If you are interested in some avenues to spark this conversation with your kiddos, check out the resources below:
If you haven't voted before or need to update your voter registration, you can get all the skinny on how to register to vote here. The deadline to register to vote in the November election is October 11.
If you're interested in digging deeper, the League of Women Voters is a nonpartisan, grassroots civic organization that encourages active participation in government works to increase understanding of major public policy issues and influences public policy through education and advocacy. Membership in the League is open to people 16 and older of all gender identities. With 100 years of experience, the League is one of America's oldest and most trusted civic nonprofit organizations. Check out the Lubbock County League of Women Voters to engage locally!
One last note: The USPS has released a commemorative stamp celebrating the centennial, and I'm buying up enough for the next 100 years; I love them so much! Grab them before they're gone!