I didn't know, when we started it. What all it was going to become. I didn't know how it would help heal and transform our hearts and become a part of what defined us as a family. It was just simply something to help get me through the day. A day I didn't want to have. A day I didn't want to be here. A day that had altered my life forever.
We had always called her our wildflower. Her nursery was decked out in all things wild and free. I passed my time on bed rest making her a flower crown that she wore those first days in the hospital. I loved the idea of picturing her running around barefooted with messy hair and a free spirit. Picking all the wildflowers. It just seemed to fit her so well. When I spoke at her funeral, I stood there, in front of her tiny little casket, and spoke of the good I knew God was going to do through her. I spoke of beauty rising from the ashes because that's what wildflowers do. That's who she was.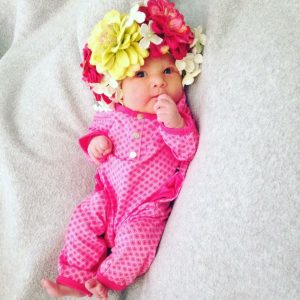 I remember being sick to my stomach when the first 13th drew near. I was completely beside myself trying to comprehend how I was going to make it through the first time. The first month anniversary of the worst day of my life.
My mother is the one that came up with it. She's really good about things like that. Coming up with some kind of way to make it through. I will never forget the penny she pressed into my hand before we walked to the front of the church to celebrate our daughter's life with the date 2016 inscribed into its still like-new shine. Whispering in my ear, "In God we trust." Sometimes, it's as simple as that. Trust.
My mom is a lot of the reason I am the way I am. She's a lot of the reason I can do what I do. So, in the days leading up to the first 13th, in typical mom fashion, she said, "what about doing something good? What about finding a way to honor Sayge on that day? What about putting all your energy and focus on what you can do, instead of all that you can't?" And, I remember feeling the anxiety ease a little. The trust in what God could do through all my brokenness growing and changing my perspective a bit. Having something to plan for her. Allowing the idea that maybe just maybe, the 13th could be tolerable. But, I was just about as helpless as could be. So my mom stepped in and bought some trays and some flowers. She baked some cookies and brought me pretty stationery bordered with wildflowers.
I knew exactly who it was I wanted to do something for. Who it was I wanted to be involved in for our first act of kindness for Sayge. The firemen. The ones who greeted me at my worst. The ones I ran outside to meet as soon as I heard the sirens. The ones I handed my sweet daughter over to pleading frantically for them to save her. The ones who tried everything they possibly could. The ones who fought with everything they had for her. I felt like they held a piece of her and that she will forever be a part of their lives now. I wanted to do something for them.
But I also wanted to do something for someone else. I also wanted to do something for the detective. The one who met us at the emergency room. The one who questioned me in the moments after they told me "there was nothing else that they could do." The one who filled out the SUIDS report form while I walked across the hall to hold her and kiss her for the very last time on this side of the stars. I wanted to do something for him because as hard as it was to be questioned and kept away from my family in those moments, I was also thankful for him. I was thankful he was there to stand up for babies who have no voice. I was thankful he was there to investigate so that maybe he could tell me I was not the one who did this. That it wasn't my fault. In fighting for the truth, he was also fighting for me and my daughter. And I needed him to know I was thankful for that.
So on the morning of the first 13th, we gathered up our cookies and flowers, and all the trust in God and courage we could muster. We took along our notes of encouragement and glitter and broken hearts and set about spreading kindness. We were spreading kindness like confetti.
And, before we knew it, our hearts started lifting a bit. The heaviness that surrounded our every breath lightened. I knew we were going to be able to do this by lifting up others. I smiled that day. For the first time since the devastation of saying goodbye to our youngest. A smile that brought about hope for better days. Hope for what was yet to come. Hope for good to still find us. A smile that believed beauty could rise from the ashes. Rise like a wildflower.
And, just like that. It became something we couldn't stop doing. Because, when the opportunity presented itself, I felt the desire to rise to the occasion. Like Sayge was the one that led my heart to these ways of kindness. And once I got them in my head, there was no stopping me. It was as if I was taking care of my sweet girl in this way. Loving on these people in extravagant ways, in simple ways, and in heartfelt, meaningful ways. I was sharing with them a piece of what it means to get to be her mother – a moment of what it feels like to hold her in my heart. The pride and joy and never-ending love. The hope I carry of knowing I will see her again. The trust in God has rescued me from the depths even if only through my actions and hopefully also through my words.
And, if I have done anything right in all of this, it has got to be that. Trusting God through these simple acts of kindness. Coming up with a plan to do some good and to get through the hardest days with intention. To put our focus on loving others. On the little things that we can do. Because sometimes it's the littlest thing that can make all the difference.
And we have continued our acts of kindness for Sayge on every 13th that comes our way. We leave a trail of glitter. And she is never, ever forgotten. We see her in the wildflowers and when people come together for the greater good.
But, what has surprised me the most is how the acts of kindness have changed us. How it has become a part of who we are. How we see this world differently now. How we look at it with anticipation of how we can leave people better than when we found them. And in return, leaving us better, as well. How acts of kindness have taken a day that could have easily been the death of me and made it about the birth of hope and beauty. About wanting to be the good in someone else's day. About how being kind to another can restore the joy in your own heart. Because it's not always about the act itself. It's about so much more than that. It's about the great love that goes with the acts and the meaning that is put behind them. It's about the thought and the effort of going out of one's way. It's about being willing to do things to make a difference for the better whether the other person receives it or not.
Without even realizing it, one act of kindness at a time, God was putting us back together. He was restoring our spirits through us lifting up others. He was binding our wounds through us wrapping our arms around strangers. He was strengthening our steps through us walking beside other weary souls and guiding them as He guided us. All this through our acts of kindness for others and for Sayge. And, in a way only God can work things together for good, one day we looked back and we realized He was truly doing so much more than we ever could have imagined. All along the way, He had been teaching us, growing us, grooming us. We had become the wildflowers. We had become the good, growing between all the broken places.