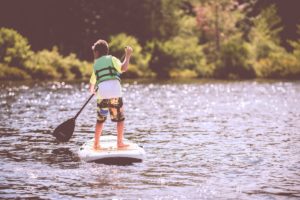 My daughter turns two in a week (yes, cue ALL the tears!). I've been thinking, okay obsessing, about her birthday party. I love creating experiences. I believe in the little details, and I have a tendency to go overboard (me and every other mom, right?). But I believe crafting experiences for your family matters, so I'm totally okay with that.
My husband and I have been intentional in our marriage about gifting experiences because we love to travel. And honestly, if we choose to do that, there is no money left for gifts. Ha! We hope to raise our girls with the same love for travel, but also for them to know that our #AverhoffAdventures are so much bigger than just a fun trip. Traveling, near or far, is a way to create memories that will be carried with you forever; it is a way to experience other cultures and see new ways of doing things. In our family, we think spending money on something that creates memories is the best investment.
With my love for gifting experiences and opportunities over toys, I try to balance it out by not spending (too much) money on gifts. We value the "gift" of travel, of moments, and unique opportunities. So in the same spirit, I've tried to be more intentional in my gift-giving. Sure, I still give clothes and pajamas because I know kids are so dang expensive and it helps to fill their closets for the next year! However, in addition to that, I've started a running wish list of ideas that I can "gift" to others in place of a toy. Below I've jotted down a few ideas on my wish list, and hope you'll share more with me.
Subscription boxes: I've started seeing these more and more and I love the idea of them. They are a little on the pricey side, but some of the subscription boxes I've seen have the option of a one time box, which could be a great gift! The ones that are on my wishlist are Raddish Kid, KiwiCo and KidsNightInBox. I'm sure there are a gazillion others that I don't know about yet, so if you've heard of other cool ones, drop them below.
Pay for music lessons or dance lessons: Find a group of friends and go in on this together. Your momma friends will thank you for helping with the financial burden of activities for their little, and hey, maybe they'll gift the same in return! Activities like dance, soccer, or music can get pricey, but they are also such a great way to begin instilling teamwork, commitment, balance, and so much more at such a young age — that's a whole different blog post ;).
Homemade Experiences in a Box (or Basket!): the above are super neat ideas, however, they are also pretty pricey. Try creating your own experience like a movie night which could be complete with a gift card to the drive-in or a DVD for a movie night at home. You can also create a craft night basket, picnic basket, or really anything — get creative and brainstorm with your kids!
What is on your wish list for you and for your kids? I'd love to hear them below so I can add to my list!