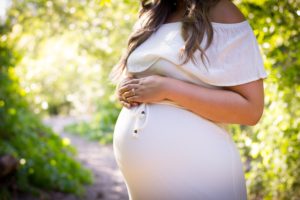 In August of 2017, our family had a miscarriage and lost our sweet angel baby before we even got a chance to know him or her. Since then, we have had our daughter and more recently found out we are now expecting our newest blessing! As I am sure that anyone who has seen that positive test after a loss knows, it is a wave of so many different emotions, to say the least. It is such a beautiful and exciting thing, one that I do NOT take for granted, but I also couldn't help feeling scared out of my mind. The anxiety and the "what if's" felt like they would drown me; particularly with this pregnancy. Reality felt like a stiff punch to the gut when I realized that our daughter and the new baby would be barely over a year apart! How the heck was I going to do this?! I can barely handle the two I have now, let alone go through the exhaustion of another pregnancy and newborn so soon after just having our last!
The night I found out I was pregnant, I cried lots of tears, both happy and scared. Scared for what the next few months (and years) would bring. At the same time, so happy and grateful that God had chosen ME to hold and grow such another beautiful blessing for our family; our unplanned surprise.
It actually took us a lot longer to realize we were expecting than it should have. Looking back, I probably should have seen the signs a lot earlier. I mean for starters, I was super sick and exhausted for like two months straight. It was right after Christmas so lots of crazy West Texas weather, not to mention how EVERYONE and their mamas were sick and I honestly just thought I had the flu. I blamed other obvious things on "my hormones still adjusting" since it had only been a few months since we had Hinley. Considering this is my fourth pregnancy, you would think I would have spotted it a mile away. Nope.
Eventually, I told my husband that I thought we should take a test, so we waited a few days and then we did. Before I could even get my pants all the way up, the test very clearly illustrated a positive result. After that, I called and got my appointments set up but still didn't realize exactly how far along we were. It wasn't until I talked to our nurse and she gave me an estimate that I realized, based on the dates I had given her, I was already actually almost out of my first trimester! This baby hasn't even gotten here and has already given me a run for my money! I still couldn't believe it but her estimate was confirmed for us at our first ultrasound.
I would like to say that when we got to see our baby for the first time all of my anxiety and fear melted away, but it didn't. We actually couldn't even get a very clear sonogram printed because the baby was moving around so much. This reminded me of my three-year-old, with whom we seem to have that same problem. My fears weren't just magically gone but instead I was also filled with excitement. As I thought about how Jagger can never sit still and Hinley tries to wiggle out of your arms every time you hold her, I also thought about how all three of them will be running around (probably driving me nuts) and squirming when I try to take pictures of them together. This little glimpse into what will probably be our lives gave me all of the reassurance that I needed.
The next few years of our lives will more than likely feel like a roller coaster that won't stop. But I also can't help but smile at all of the crazy bumps and turns that this beautiful life will be throwing at us.