We are all using Amazon for our paper goods and various soaps, right? Well, recently I have discovered clothes on Amazon. I'm talking affordable, easy clothes. Clothes and shoes with, of course, two-day prime shipping (assuming you are a prime member because well you are getting your various soaps and paper goods delivered to your door). I have recently found a few pieces that I would like to share. The beauty of the two-day prime shipping is that returns are easy. The easiest I have found is taking it to the Amazon store here in town. Ok, now on to the clothes…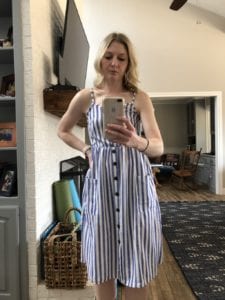 This is a great, easy dress. Now it is $22, so the material reflects that. The buttons are not functional. I'm wearing a small (I'm a size 6-8 jeans, small top by the way). It is loose fitting on the bottom so, I would size to your top. There are lots of color options. I'm thinking of date nights or backyard BBQ parties.
Can I just say, I love this shirt? It's beautiful and pro-woman, so it's a no brainer. It's a little on the boxy side, so plan on some high waisted shorts or jeans. Save this for a night out with the girls. It's $20, and it's a new favorite. I'm wearing a medium.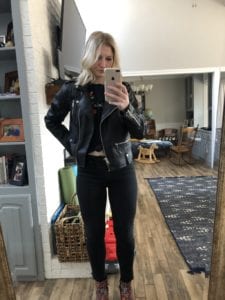 This jacket. I love it. It's faux leather, but super good quality. It's Levi's brand. It is an affordable, good quality option. It has about 4 colors. This is a medium, but I think I could have gotten away with a small for a slimmer fit (I will probably exchange it). It's a little more than the other items on this post, but it's a great jacket for our cool Lubbock spring nights. It would also work for fall! It's $80.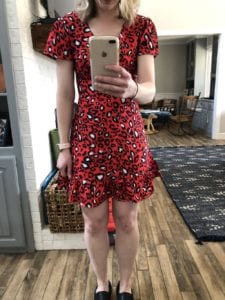 If you were at our Mom's Night out event at the Texas Tech Club, then you saw me in this dress. I wore it with black booties, but here I have it with a pair of sneakers. I'm wearing a small. There are 3 different color options. This is great for a date night or girls' night out (or moms' night out). It's $19.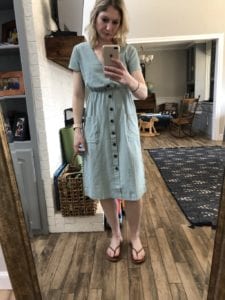 This dress is lightweight and a great length and color (with 2 more color options). This is a great choice for work in the summer or church. The buttons are not functional. I'm wearing a small. It is a little narrow on the bottom, and not much stretch so size up on the bottom if you aren't sure. $19.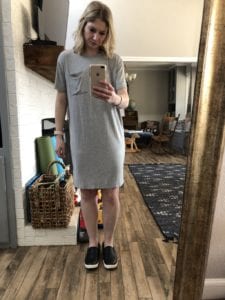 Who needs another t-shirt dress? Hum, me and in every color! This is the softest material and so comfortable. Great with sandals or sneakers. Layer with a cute jean jacket and go! I'm wearing a small. $18!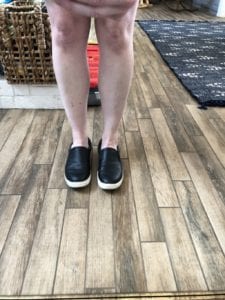 These shoes are my new jam. They are super comfortable and go with so many things. Think jeans, shorts, dresses, work out clothes… the possibilities are really endless. They have a bunch of color options. These shoes are $50. They are a little wide. If you have a narrow foot, you will need to wear a sock.
So there you have it. My affordable fashion from Amazon.
Would y'all want to see more Amazon clothing finds in the future?