You know those times when you sign your kid up to do something, and then you wonder if its really going to be worth the time and money you're spending? You're like, "Why did I just commit myself to 12 weeks of taking my kids to this when we could just stay at home in our PJs?" Or is that just me? Well since I'm the mom that hates committing my kids to anything because they're bored with it two weeks in, I'll tell you I was probably the least likely to take them to The Little Gym.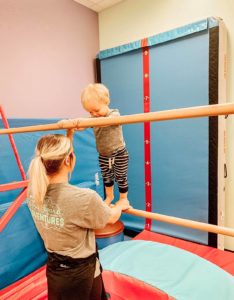 But after the first day, we were all hooked!
Do you ever walk in somewhere and feel right at home? Like you belong there too? All four of us felt that way here. From the moment we strolled in, they knew our names and never forgot. We were with a class of 15 toddlers and their parents (or grandparents/sitters) and the teacher knew us all on the first day. I mean, I had to write her name down in my phone and go back and look at it 5 times before I could hers. #forgetful
The employees that run The Little Gym are gems and the sweetest people you will ever meet. My 18-month-old fell in love with Ms. Shelby and Ms. Sarah and to watch him laugh and squeal while doing summersaults, walking on the balance beam, swinging on the high bar or chasing bubbles was so fun. Plus, having 50 minutes of one-on-one time with him while my big kids hung out in the play area (it's separated by a glass wall so I can still see them) with all the toys and Legos, is priceless. Its some fun bonding time I don't get very often as a homeschool mom who is with all three kids all day long.
I love how the main focus is on child development activities. They know exactly what to teach and what to help them work on. My 18-month-old's vocabulary skills have even skyrocketed since we have been going regularly!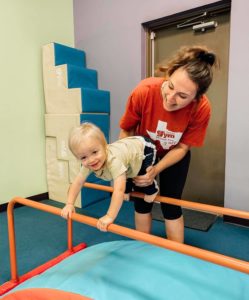 My 4 and 6-year-old are doing a sports class and let's just say, neither of them will be professional at anything athletic, bless their hearts. I absolutely love that they're getting some amazing instruction on how to play different sports each week. They are in a small class setting and incorporating things like letters, reading, and coordination skills I don't think to teach them! I love that they hit every single milestone and developmental skill to make sure my kids are exposed to it all. It makes this homeschooling momma happy they're learning it somewhere!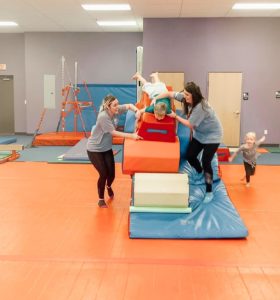 This place thinks of it all. A coffee bar for moms. A comfy waiting area. A place for siblings not in class to play. Parents night's out. Summer camps. You're not just paying for a gym class once a week, you're getting an entire experience of fun, music, colors, letters, strength, coordination and amazing developmental activities for you kids!
Oh, and the best part, when you sign your kids up for the new season, tell them you're a Lubbock Moms Blog reader and you'll get a free annual membership with enrollment!
Follow The Little Gym on Facebook, Instagram, and check out their website for class schedules!