"Believe the best, forgive the rest and say I love you."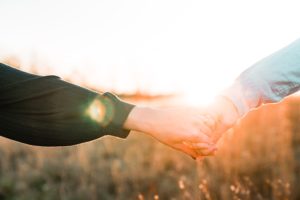 My husband and I (try to) live by this quote of always believing the best in each other. We hope to raise our girls believing the same. I love it because it's simple, yet truly life-giving for us. I wish I could take credit for this brilliant saying, but the truth is, I have no idea who said it first.
I do not even remember exactly how it came about for us; I think it is because we both joke, a lot. Early on in our relationship, we realized there might come a time when the other made a joke and possibly went too far in front of family or friends embarrassing one of us, or worse, starting an unnecessary fight. I don't know, maybe it happened a few times to us. Or maybe we are just both so wise that we had the foresight to know it was a possibility and wanted to stay ahead of it (guess you'll never know the truth – ha!). Regardless of how it came about, it has turned into an unofficial family motto, and it is probably the best advice I can give anyone in a relationship.
In a time of life when our house is messy, we are always running late, and date nights are few and far between, this quote has been monumental for us. So I invite you to join us in "believing the best" of everyone, freely forgiving because it's the right thing to do, even when it's hard, and most of all, letting love, love through you.