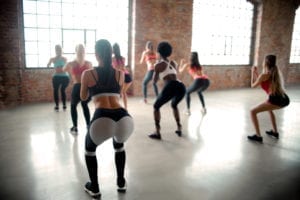 Today I realized that fitness is something taught.
A while back, I started a small challenge I saw in a magazine article about doing 100 squats a day. I started a couple of years ago, and it is something I try to do daily. After having my last baby, I finally decided it was time to start again. I have found that it is easier to break it up instead of doing them all at once, so while making eggs one morning, I started doing my squats. I heard my three and one-year-old laughing hysterically behind me, and when I turned around, I saw that they were mimicking me and doing "squats" with me! It was honestly one of the cutest things I have ever seen! With Jagger helping me count and Hinley kissing me with every squat, I finished my first set of the day.
When it came time for the second set of the day, the kids lined up with me to do our squats again. It was just squats, but I loved getting to do them with my kiddos. I loved showing them just a glimpse of a healthy lifestyle and how fun it could be.
I didn't grow up living a super healthy lifestyle or even worrying about my diet or exercise. I was in cheer and dance in high school and college, so I did workouts daily but only enough for practice. When I stopped doing that, my workouts pretty much stopped too. I then started having babies and didn't work out after that!
It is only now, as an adult, that I have had to decide to live and be healthy, so much easier said than done. It is now something that I have to teach myself and my family and habits that I have to change. Living that lifestyle isn't just something that happens; it is something that is taught and has to be seen and practiced.
So here is my commitment, here is me holding myself accountable, and here is my start to teaching a healthy life.