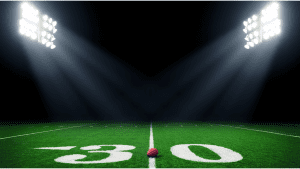 When I was growing up, we traveled all around the world while my dad served in the Air Force. We didn't do traditional activities around American sports, and we certainly didn't get to witness a ton of the game on TV. But, as soon as we were able, the family headed to Texas, where my dad retired and began our "indoctrination" into the world of Texas Football (like it was his full-time job).
Football is a lifestyle in this great state, and our family was no different—flag, touch, tackle, 6-man, junior varsity, and then varsity. Then, my brother and I went to the greatest football university in Texas, where we learned all about living for the game – through heat, rain, and defeat (and, it's funny, I don't even have to name it for y'all to think it's yours, where ever you went!). What makes football so attractive to families all across this state? Why do they believe getting kids involved (and sometimes, really early) is essential? And what do moms and dads think their sons and daughters get out of playing the sport?
Lubbock Moms shares about three families to understand why they are "Football families." Hear all about them here.
Family #1: Grandma and Grandpa raised one generation of football fans and now get to see their grandkids play.
It's not every day that you meet a grandma who knows every one of her grandson's stats. But Linda is no stranger to carrying around that stadium pad and waving her pom-poms at the games. Her grandson, Westin, plays at Merrick College (after stints at LSU and Blinn College), and I've never talked to a woman that is so proud of his progress. She's constantly sharing his stories – successes and failures – with the neighborhood, and even though we've not met this Shallowater High grad, we all feel like we know him. And root for him every game.
Linda and her husband Ronald share that Westin has learned and grown so much. He's gone through tough and challenging times, and of course, creating your path in the college football scene is often complicated and bumpy. They're impressed with how quickly the young man has excelled and used all the great lessons he's learned on and off the field to lead his team.
Family #2: Holly and Colten not only have kids that play, but Colten also coaches!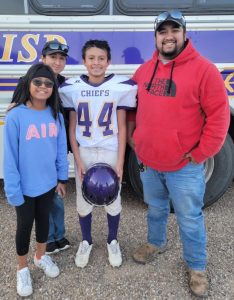 Lubbock Moms Contributor Holly is the definition of "Football Mom" if there ever was one. Not only do her three sons play flag and tackle ball, but her daughter also cheers for one of the teams. She's also engaged to… THE COACH. Holly and her fiance, Colten, spend many nights under those bright lights, and they are absolute pros at the game schedule shuffle. Holly and Colten both say that football has taught all three of their children lessons they don't think they would've gotten anywhere else.
Colten loves the opportunity to teach young boys and girls how to bounce back from a loss, be a good teammate, and, most importantly, to juke like the best. He feels like he's building community in this volunteer capacity, and Holly shares a similar sentiment. Holly says, "Football is unifying." She's even got a job on the sidelines- taking video and photos of the games to ensure that no parents miss the highlights. This really is a family affair!
Family #3: Shea has three boys – two playing high school football and one playing in college.
The Lubbock Cooper Pirates have seen three of her kids take the field, and now Shea has a son playing for Deion Sanders at Jackson State in Mississippi. Besides becoming an absolute road warrior, Shea has always been the mom pushing her boys to use football as a leadership training (and spreading!) activity. They have all been awarded for their sportsmanship and are involved in the community and volunteer-related activities with their teammates. Football is a way of life and so much more than a sport to this family; they are also good at it!
With three boys in the house, you can imagine that Shea is probably constantly washing practice clothes and picking up cleats, but she wouldn't have it any other way. Her boys have learned what impact being on a team has on everyone around them. They rely on each other, lean, and learn from one another.
_______________________________________________________________________________________________________________
While these families might be experiencing football in the Lubbock area, these are universal experiences. Sports, especially this one, teach kids endless lessons and help shape them into adults with team-based values and practices. If you'd like to hear more about youth football for boys and girls, check out Future for Football and start finding a league now!
Future For football is an initiative by the National Football Foundation to promote and celebrate the game at all levels. Follow them on Instagram, Facebook, and Twitter. You can also visit their site for other helpful resources and to find a league near you.