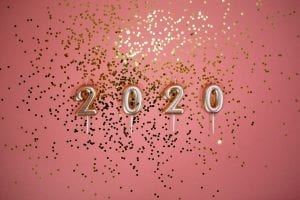 We had high hopes for 2020. We had survived the hype of Y2K, foam parties in the early 2000s, and the Justin Timberlake and Britney Spears break up. If we could make it through all of that, surely we could make it through 2020, right?
That chick 2020 came in wearing her gaudy shutdowns, Common Core Math about distances and percentages, took our toilet paper, closed our schools, salons, gyms, then dared not to be finished! She said, "Hold my Capri Sun" and then sent in the moths who have now been replaced with an abundance of flies. I opened my back door for ¾ of a second and spent the next two days killing the Partridge family of flies.
It's offensive.
I am convinced that 2020 told Dr. Evil that she (I say she because let's be real, women get the job done) could steal Austin Powers' mojo, and all of this is an attempt to fulfill her contractual obligations. Take what you want, 2020, but leave a few things.
I'm all for giving credit where credit is due and focusing on the positive things, and SIX things started happening in 2020 that we should continue to do.
Family Dinner Time
My Facebook feed became pretty dull from about 5:30 pm – 8 pm from April until about July. I started to send private messages to friends who were usually pretty active on Facebook to find out if there was some social-media challenge going on. The general answer was, "We have technology-free family dinner time."
I shamefully looked at my dining room table that half of it was for mail that I should throw away, and the other half was a play area that my kids used for their cars. My dining room chairs were filled with random things – a printer that needed ink that I couldn't find in any store (thanks to all the people working from home) and unopened boxes and bags from online ordering. Families had started clearing their clutter dining room chairs or the ones that had just been there for decoration only to be used at Thanksgiving and began to gather around the table to have dinner at home.
I get the privilege of working with kids beginning at age 8. The one question I continually asked them was, "What was one thing you did with your family when the school closed that you want to keep doing?" Their answer – cooking and eating together at home. Sure they missed seeing their friends as often as they used to, but they just enjoyed doing simple things at home. Fellow Lubbock Mom, Meagan Smith, wrote about how to continue cooking with littles.
We need to keep up the quality time we spend at home as part of our new normal.
Puzzles
My kids are three and four-years-old. I randomly got on Facebook Marketplace… let me rephrase, I browse Facebook Marketplace daily as a weird way to unwind, but I hate going to garage sales and Ross because I don't particularly appreciate searching for hidden gems. Anyway, I was on Facebook Marketplace and saw someone selling a puzzle, not just any puzzle, but a Spiderman puzzle. At this point in the official summer break, we had watched "Into the Spiderverse" 47 times in three days, so I knew they would love it. I used to love puzzles and thought I was some genius back in the day when I could efficiently finish a 300-piece puzzle, picture side down. You know you did it that way.
I bought the 46-piece floor puzzle, and when I tell you that was the best $3 I've spent, in June – it was! One Saturday, shocking to no one, my 4-year-old refused to nap, so I got out the puzzle, and we sat on the floor to complete it. I had forgotten the life lessons that puzzles can teach – patience, problem-solving, and improving memory skills. The conversation we had was pretty great too. He told me about all of the different characters as he finished each section, why he liked Miles Morales Spiderman over Peter Parker Spiderman – all while the television was off and the tablet was charging.
I sure did go to Amazon and bought two more puzzles for us to do together.
Sports & Extracurricular Hiatus
My kids aren't old enough to play travel ball yet, but I did coach for nine years, and my son was a t-ball all-star. It wasn't until my son started t-ball that I genuinely understood the hustle and bustle associated with youth sports. As a coach, I preached about giving the growing bodies of youth athletes a break for longer than just a couple of weeks between sports. 2020 not only gave us a break in youth sports but professional sports as well. One thing I enjoyed doing with my Dad pre-2020 was going to sporting events – college, high school, professional we enjoyed them all. It was our thing. I get that parents and their kids have a thing; however, it seems like we started to let our lives revolve around sports, and people were becoming ugly towards officials, coaches, spectators, and players.
2020 came in and said put us all in much needed, two-month-long sports time out on all levels. Consider giving your family a two month reset from extracurricular activities. As Michelle Bates pointed out in You Were Too Busy – don't get too busy with the extra that you ignore what you can do right at home.
Drive-Thru Alcohol
This is pretty self-explanatory. Thank you, Governor Abbott, for this one.
Curbside Pick-Up
Curbside pick up expanded passed grocery pick up. I utilized it a couple of times, and it quickly became hit or miss. However, when curbside pick up for meals at restaurants and those same restaurants had amazing family packs that Lubbockites created a whole Facebook group about it – we need to keep that going. In my opinion, the quality of food given curbside was better than dine-in because cooks weren't rushing to get orders out for multiple tables. I would rather call in my order, wait 30 minutes to leave my house, arriving there in 12 – 15 minutes, receive my order correct and hot because I was given a 45-minute wait time for it to be ready than to sit at a table, place my order, see everyone around me getting their food while being told that "the kitchen is backed up."
Sanitizing All the Things
Remember when you had your very first baby, and you were sanitizing all the things and people who came into your house? By kid number three, the five-second rule was a way of life. They were walking around saying, "God made dirt and dirt don't hurt," because they had heard you say it many times after the new baby would drop their pacifier on the ground, and you cleaned it in your mouth and gave it back to them.
2020 was our newborn baby and giving us a renewed sense of comfort in seeing someone wipe down a cart for me before I go into a store, wiping off the table and seat before and after I sit down at a restaurant, even as a teacher wiping off all of the desks after students leave.
Brands began to up their marketing of "clean" products – products made naturally without harsh chemicals. 2020 made us all Pseudo-Crunchy Mommas, who still would clear out the three-pack of Clorox wipes at Costco. 2020 has required schools, restaurants, churches, gyms, and everywhere in between to develop a new sanitation practice to protect the health of those who frequent these places and keep them open. We should keep this as a standard and not a temporary fix.
While 2020 is now threatening to bring not one but two hurricanes to the Texas coast during hurricane season, something new comes up every month that is positive.
Focus on the positive and file that under The New Normal.