One side of a phone conversation.
"It's true. Yep. I can't believe it. I mean, I get it. But a whole other month. At home. With the kids. I'm at my wit's end. I can't home school a first grader. The baby cries the entire time. She's so clingy right now. And the toddler. He is into EVERYTHING. I feel like I'm going to snap."
Sound familiar?
Maybe not all of it. Or perhaps all of it and more!
Take comfort in knowing you are NOT ALONE.
There are so many first-time stay-at-home moms (and dads) out there right now. We're doing our very best to keep up with our problems. Add to it, school is out and the financial stress some are experiencing. The simple fact that there is a friggin' pandemic and people are dying is a lot to deal with.
You are NOT ALONE.
Maybe you lost your job. Maybe Dad lost his job. Perhaps you have five kids all needing to use the internet but the cell phone bill hasn't been paid yet, and these services are getting cut off next week.
You are NOT ALONE.
Maybe you've always had a short fuse. Maybe Dad loses his temper just a little easier these days, too.
You are NOT ALONE.
According to a 2016 Zero to Three National Parent Survey*, 73% of parents say parenting is their biggest challenge. I'd be willing to bet that under particular COVID19 pandemic circumstances, that percentage spikes upwards towards 100%!
You are NOT ALONE.
Meanwhile, the survey also reveals some other interesting data. Parents frequently do not know at what ages and stages their children are capable of individual skills or behaviors. That can certainly add to all these other stressors! For example, around 50% of surveyed parents thought their child was capable of self-control before age three. This is a skill mastered between age 3 1/2 and 4!
So, age makes a huge difference in how you handle your kids—confused already?
I promise you are NOT ALONE!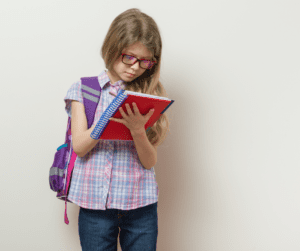 Let's take a quiz to clear some things up**!
Question 1. True or False? When my newborn is crying inconsolably, she hates me, and I'm a failure as a mom.
False.
Crying is often the way a newborn baby lets off steam, not to mention how she lets you know what she needs. Up to 40% of newborns around three months of age will suffer from Colic – 3 hours of inconsolable crying, at least three times a week, for at least three weeks at a time. If you have trouble comforting a crying baby of any age, and your baby isn't otherwise sick (fever or breathing difficulties), it is ok to put your baby down in a safe place such as her crib or playpen and walk away for a little while. You should take a break and let the baby cry rather than snap and potentially harm your baby in frustration.
Question 2. True or False? My nine-month-old has started cruising and reaching for everything on the coffee table. And power outlets. And my coffee cup. And my phone. When I say "no," he stops for a minute but reaches again. I should swat my infant's hand to teach him I mean business!
False.
Infants indeed start to understand what the word "no" means at about 9-10 months of age. However, infants lack the self-control to completely stop the undesired activity until much later—about two years old and older is when this skill starts to develop. In the meantime, "discipline" for this age equals parent self-discipline. You must arrange the environment so that nothing that can harm your baby is within his reach. Put breakables away. Put your coffee in a spill-resistant mug with a lid. Cover outlets with safety plugs. Keep age-appropriate and exciting toys and books at your infant's level so that he has plenty to keep him busy. And occasionally, under appropriate supervision, let him have some fun with forbidden objects, such as pots and pans, cardboard boxes, and pairs of Dad's shoes! You will pull your hair out, and potentially harshly punish your child for his misbehavior if you don't adjust your expectations AND your infant's environment!
Question 3. True or False? My five-year-old daughter was fully potty-trained as a young 2-year-old. Now my 3-year-old son is most potty-trained except for BMs! I can't take it anymore! I plan to start taking away a favorite toy from now on until he knocks this off. I know he can control his bowels, so he needs to stop making messes in his underwear.
False.
First of all, boys and girls are entirely different when it comes to potty-training. What is even more true is that each child is their person and will potty train at their own pace. And while it may be true that your child could control their bowels at this point, there could be lots of other things going on. Whether its constipation or "behavior," what we do know for a fact is that punishment for potty issues will not work in the long run. You, as a parent, cannot control your child's elimination. Lots of abuse has occurred due to potty-training issues because parents can't do anything to control this. So, when potty training doesn't go as planned, first, talk to your child's doctor about your concerns. Secondly, try hard not to lose your cool. Physical punishment or harsh discipline will only lead to more frustration. Sometimes it's best to let up for a little while, then try again in a few weeks or months. And utilize positive reinforcement—my favorite free potty-training charts are located here.
I could go on and on with questions for this quiz, but I will stop here to emphasize my point: when you know what to expect from your child at each age, then you can modify your expectations. Let me say this another way; the problem is often you. Not your child. I know that sounds harsh, but it is true in many cases. Of course, there are exceptions, such as children with special needs and developmental delays.
And please don't misunderstand me. We should continuously be disciplining (i.e., teaching) our children. That is our job. Your duty to your child and society is that you teach your child to obey when told no (refer back to question 2), that your child learns to cope in healthy ways (refer to question 1), and that your child exhibits socially acceptable behavior (refer to question 3). Our whole society would be a mess if we just raised feral children who did whatever the heck they want when they wanted.
But what I am saying is that you must learn about your child and what he or she can do at this present stage. Then modify your discipline (teaching) to fit your kiddo's current developmental level.
Sometimes this is easier said than done. And we all get frustrated now and then. However, if you find yourself frustrated all the time, please get help. When you feel like you could snap, just make sure your child (any age) is safe, then walk away for a break. Call a trusted friend or relative. Let's take social distancing seriously, but I'd instead step in and break those rules for a friend then see a child suffer harm. You can also take advantage of online resources and local resources (listed below). We're practicing social distancing to flatten the curve and keep our whole community safe.
April is Child Abuse Prevention Month — together, let's keep our kids safe in more ways than one!
Online resources:
Childhelp National Child Abuse Hotline 1-800-4-A-CHILD (1-800-422-4453)
National Children's Advocacy Center Resources for Parents
Local resources:
The Parenting Cottage 806-795-7552
The Children's Advocacy Center of the South Plains — Child Abuse Hotline: 1-800-252-5400
Other:
*Zero to Three National Parent Survey can be found here.
**Content for this quiz supplemented with information from BabyCenter.com